The Scout Guide Huntsville, a city guide dedicated to supporting local businesses in Huntsville, Alabama, launches this year's edition this week.
The Scout Guide Huntsville first launched in 2018 as part of national network of bespoke guides that celebrate small businesses and helps readers enjoy their communities to the fullest. The Scout Guide (TSG) is a women-founded and women-owned publishing franchise with more than seventy owner/editors nationwide.
256 Today talks with Owner and Editor Dawn Pumpelly ahead of the Volume 5 launch on Wednesday.
What prompted you to launch The Scout Guide Huntsville?
I first discovered TSG in the summer of 2016 when I stepped away from my family business and was looking for my next adventure. I was so excited about the growth and development that I was seeing in Huntsville, and I wanted to find a way to be a part of it all. I wanted an opportunity that would allow me to own a business, have more time as a wife, mom, and community volunteer, and also support the explosive growth of small businesses in Huntsville. I had a friend from college, Courtney Pigford, whom I would see posting special community news about Birmingham as (then) The Scout Guide Birmingham editor. The more I followed along with her, the more my interest piqued. I felt like Huntsville needed and deserved the kind of small business amplification that Courtney had brought to Birmingham.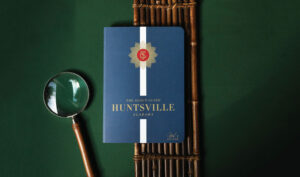 How would you describe The Scout Guide Huntsville?
The Scout Guide connects people with local makers, experts, and each other. In print, online, and on national and local levels, The Scout Guide celebrates small businesses, supports local entrepreneurs, and helps readers enjoy more of what their communities have to offer. We believe that TSG Huntsville is a resource for living well locally, a source for inspiration and connection, and represents the most distinctive businesses, artists, doers, and makers in the city.

Why does Huntsville need a Scout Guide?
It goes without saying that Huntsville is the most up-and-coming city in our region and arguably the country. We are a city that already represents and continues to attract a rich and diverse community. As we grow, locals, relocators, and visitors alike need to find ways to connect with the quickly changing landscape. We make that connection possible in print and online.
What is your favorite thing about our community?  
A friend once said to me, "Huntsville is the kind of place that if you have a good idea and are willing to work hard for it, people will get behind you." His words ring true to me every day. I am regularly blown away by the love, support, and encouragement of the Huntsville community for the work we do at The Scout Guide Huntsville.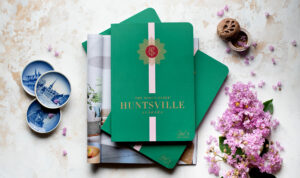 The Scout Guide Huntsville is known for gorgeous layouts and images, how do you develop the look and feel for each issue?
Thank you! It is a year-long process to put together The Scout Guide Huntsville. Once a business commits to participating in the upcoming guide, we begin the creative planning process. The first step is starting with an overall vision for the guide and defining any key concepts or colors. Then, my creative team (photographer Ashley Vaughn of White Rabbit Studios and creative director Aissa Castillo) and I meet with each business to discuss the creative vision for their individual spread. We go to those meetings with ideas and inspiration and marry that with the vision of each client.
Before the photo shoot, and depending on each member's needs, our team might advise on styling, props, dressing, and other creative aspects. On the day of the photoshoot, our partner team at Terramé provides hair and makeup. Immediately afterward, we all meet up to capture images for the guide.
Each member works with us to select their final images. The last step involves designing the guide by coordinating a look and feel that both the member and TSG team feel represents them best. Ultimately, all design decisions are based on the Scout's signature "look book" style.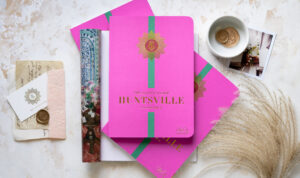 This is your fifth year, how has The Scout Guide Huntsville grown and what do you hope for in the future? 
I'll be honest, when I first started the guide five years ago, I had some questions about whether our big, small town could support a guide. I knew that we had so much to celebrate in our community, but I was concerned that we just weren't ready for it yet. Fast forward a year, and our first guide was celebrated by The Scout Guide franchise as the most successful first guide they had ever printed. At the time, that included nearly 60 cities. Today, this new Vol5 is breaking even more records across what is now 70 Scouted cities.
I'm excited about the future! I just committed to creating at least ten total volumes of The Scout Guide Huntsville. I'm looking forward to growing the guide in new ways that include new offerings, new partnerships, and new team members. Ideally, I would love to bring on a team member who wants to learn and grow and perhaps be the next Scout Guide editor/owner someday.
What is your most memorable Scout Guide moment? 
My most memorable SG moment would be the launch of our first volume in September 2018 at Burritt on the Mountain. It was a beautiful, cool-for-the-season day at The View which overlooks our city. Everything from the flowers to the food to the drinks came out perfectly. From that day, I knew we were on to something big!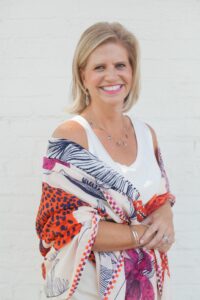 What impact have Scout Guide Huntsville members seen in their own businesses?
At its heart, being a part of The Scout Guide is advertising, so most businesses do join us to grow the impact of their brand in the local community. What I hear most frequently these days, though, is that an equally or even more powerful part of The Scout Guide is the relationships that they as small business owners form with each other.
How has The Scout Guide Huntsville created space for local businesses?
We've already talked about the Guide being a resource for how locals and visitors connect with the most distinctive businesses in our community.  I think it has also created a vehicle for our members to connect with each other. So many small and local business owners find it hard to get out of the day-to-day of their store or office, and this network is such a unique opportunity to connect with local contributors.
Likewise, throughout the year, I host private events for our members to network and connect. Both the launch party and our "member mingles," that range from purely social to special presentations and learning opportunities, are times for them to meet, connect, and potentially collaborate. They seek each other out for business and support.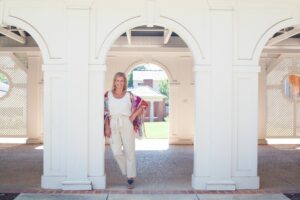 Thousands of households in Huntsville, Madison, Madison County, Decatur, and Guntersville will receive the Scout Guide Huntsville Volume 5 in the mail while guides will also be available at all Scout Guide member locations.
A list can be accessed here (the link will be updated Sept. 21).
Additionally, the Scout Guide Huntsville will be hosting "Pop-in & Pick-up" events at member locations the week of Sept. 26.