HUNTSVILLE – The redevelopment of the Meridian Street corridor, which is a cornerstone of growth for not just downtown Huntsville but for the city as a whole, took on a "'loftier" role  with the official grand opening of the Lofts at Dallas Mill.
Located in the Five Points area of Huntsville near downtown, the 4.3-acre, 148-unit apartment complex sits on the site of the former Dallas Mill, the first of four major textile mills built in Huntsville in the late 1800s.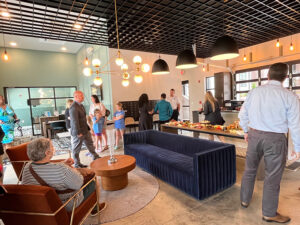 Trey Daniel, field representative for U.S. Rep. Dale Strong; City Administrator John Hamilton; Huntsville City Councilman David Little; and Huntsville Downtown Redevelopment Authority Chair Mark Harbarger joined developers Chris Hanback and Rob Heard of Huntsville's Ventis Group as they shared their journey in building a contemporary housing development on a historic site without losing its rich 19th century heritage.
"We've learned a lot about the history of this site during the building and design of this project," said Heard. "Lowe Mill and Lincoln Mill receive a lot of attention, but Dallas Mill was the first of the mills to open in 1891. It was repurposed as a warehouse in 1949 and burned down in 1991 and has been empty ever since.
"When we bought this site, it was really important to Chris and I to pay homage to the history of the mill and the mill village surrounding it."
He said they partnered with South Carolina architects Johnston Design Group to capture the industrial feel of the old mill while, at the same time, giving it a craftsman feel that reflects the neighborhood still surrounding it.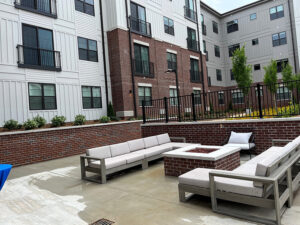 "They were an integral part of helping us with a creative design that works for the neighborhood and that ensures it remains vital to the community in the short term and long term," said Heard.
Representing the City of Huntsville, Hamilton thanked Hanback and Heard for their investment in the Five Points area of Huntsville. It now joins the renovation of nearby Lincoln Mill into a commercial retail center.
"I enjoy ribbon-cuttings more than groundbreakings," Hamilton said. "That means the finish line is in sight and we build enough to know the ribbon-cutting alters things because its right there and most of the hard work is done.
"This project represents what we have to have to continue to be a growing city like we are. This is an exciting time and has been for a few years and we expect it to continue to be an exciting time in Huntsville with the growth of jobs, the growth of quality of life where people can live work and play.
"You see so many car tags from out of town, but remember they have 30 days before they have to change it, right?" he said as people laughed. "In order to be that kind of community where people want to stay, you have to be attractive to the rest of the world and have people willing to invest in our community and that is what we are seeing."
Hamilton then spoke about the need for affordable housing.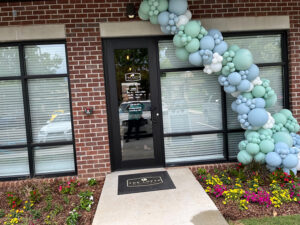 "We've got to have affordable housing and easy projects that make this the right place to live work play and a great place to invest, so let's do more of it," he said.
Heard explained the difference between affordable housing, workforce housing and market rate housing.
"Affordable housing really is a need in this community and I know the city is working diligently on it, but it really focuses more on those in the low- to medium-income workforce, those living just below and just above median income and those are both hard to build for several reasons, primarily because people want to make money and it's expensive to build things," he said. "Most of the housing products you see are more market rate rental properties and we felt we needed to cater more to that missing group.
"How do you do that? By finding land that is in the path of progress, but not right in the core of downtown; you scale back the amenities, providing not necessarily fewer, but more scaled-back amenities like making the units smaller."
He thanked the city of Huntsville for providing the support by working through zoning laws to maximize the site and helping with land use and tax breaks.
He also thanked Johnston Design Group for designing the right product and acknowledged their investors who understand the vision.
Hanback closed out the ceremony.
"If you ask anybody why Huntsville is thriving, I'll say every time, 'It's because of great leadership at the top, from the mayor's office to the city council office and throughout city leadership, so 'thank you' to the city for their help and support on this exciting project," he said.