HUNTSVILLE — It was "out with the old and in with the new" on The Hill.
After nearly a half-century of activity, Alabama A&M's T.M. Elmore Gymnasium hosted its final basketball game Thursday.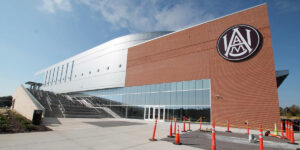 The next day, the university cut the ribbon for the Event Center, a 135,000 square-foot facility that is the new home to a 6,000-seat arena for sports, graduation ceremonies and other university events. The Alabama A&M Hall of Fame will also be housed in the facility.
The Bulldogs will christen the center Wednesday with a men's basketball game against Louisiana Tech. Tip off is 7 p.m.
AAMU President Daniel K. Wims and President Emeritus Dr. Andrew Hugine Jr. joined members of the Board of Trustees, administrators, students, faculty, staff, alumni and community supporters for Friday's ceremony.
The Event Center is open to the community and houses a small event suite, a large event suite with a balcony and large industrial kitchen.
At last Thursday's basketball game, former Bulldogs were invited for the ceremonial farewell.
Former coaches and athletes greeted each other with hugs and laughter as they took to center court to hear their accomplishments announced.