HUNTSVILLE – Students at Huntsville's Alabama School of Cyber Technology & Engineering showed their prowess at more than cyber technology with several big wins at the Alabama High School Athletic Association swimming and diving championships. The school, one of only three public magnet high schools in Alabama, competed in the Class 1A-5A category at the 63rd annual meet in Auburn.
"We are incredibly proud of our swimmers for their record-setting performance at the state meet," said Andrew Smith, CFO and head swim coach at ASCTE. "This is our second year having a fully operational athletics program and, as a school of 250 students, our athletes dominated in their individual events."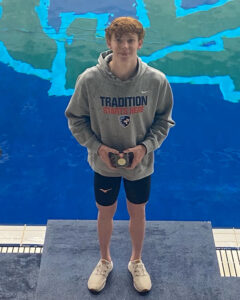 Competing in the Class 1A-5A division, ASCTE junior Lance Young took first place in the the 200-yard freestyle and 500-yard freestyle.
ASCTE sophomore Kailee Cline won the gold in the 100-yard butterfly and was 10th in the 100-yard freestyle.
Ellis McGraw, an ASCTE sophomore, took home second place in the 100-yard breaststroke and was third in the 500-yard freestyle.
Overall, the ASCTE boys placed seventh in 1A-5A.
"All of our swimmers did extremely well and competed against some of the largest schools in the state," Smith said. "Having these wins is a true testament to the quality of student athletes we have here on campus."
Wilson Lemke, an ASCTE sophomore, placed ninth in the 200-yard individual medley, followed by sophomore John Underwood  who placed 10th.
Michael Derrington, a UAH-bound senior, finished seventh  in the 100-yard breaststroke.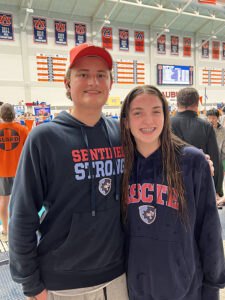 Additionally, Young, Lemke, and Derrington combined with senior Victor Balch to take fourth in the 200-freestyle relay and the 200-medley relay.
"As we further develop our athletic program and facilities, we are beyond impressed with the talent our student athletes bring to this novice program" said Matt Massey, ASCTE president. "Our students are achieving at high levels both inside and outside of the classroom, and I look forward to seeing what's next as we grow by an additional 100 students next year."
In addition to swimming, ASCTE has athletic programs in archery, basketball, bowling, cross country, soccer, volleyball, track and field, and tennis.