ATHENS – What better time to extend shopping hours than on an extended holiday weekend?
Athens Main Street announced today that patrons will have additional time for retail therapy this Friday during the second "Friday After Five" event.
Food trucks, shopping and dining are all on the docket with several downtown merchants agreeing to keep their doors open a little longer so patrons can enjoy the outdoors and roam the Square Arts & Entertainment District.
Music begins at 7 p.m. on the east side of the Limestone County Courthouse. Be sure and bring lawn chairs or blankets so you can picnic or dance the night away to music from Drumb & Drumber.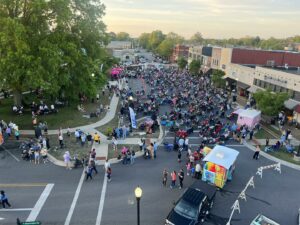 Dancing and shopping can work up an appetite and food trucks will be parked and ready to serve, including Champy's Fried Chicken, Teresita's Tamales, Ramona J's, Touchdown Wings, Hattie Mae's, Sandman Sandmaches, Tacos To Go, Old Havana Café, Rocket City Popperz, Happi Pappi, Frosty Pops, Snobiz, and Granny B's Sweet Treats.
New this year are children's activities.
Pryor Field Regional Airport will have a paper airplane activity for the kids and Hometown Pediatrics will have a dunking booth. Come make a splash with the kids!
Athens Main Street Executive Director Tere Richardson said the Friday After Five event is important for downtown Athens.
"This event brings patrons from the entire North Alabama region to support our merchants," Richardson said. "This staple event will have people dancing in the street enjoying the atmosphere of a historic downtown."
Click here for more information.