Bryce Young and Will Anderson aren't skipping the Sugar Bowl on New Year's Eve. That's a big deal, even if the game isn't.
In fact, Alabama isn't expecting any opt-outs for its bowl game.
There was a major uproar when Leonard Fournette and Christian McCaffrey skipped their bowl games in 2016 to avoid injury and secure their positions in the NFL Draft. Now, what was taboo only six years ago is now a commonplace strategy for players who want to avoid losing millions of dollars on their first professional contract.
Young, the Tide's quarterback, won the Heisman Trophy and nine other awards for his play in 2021. He was a freshman on the 2020 team that won the national championship. He holds multiple Alabama and SEC passing records.
He has nothing to gain and everything to lose by playing in the Sugar Bowl. He'll be on the field in New Orleans in Crimson and White.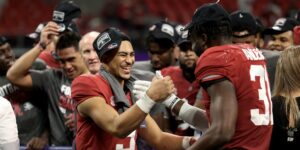 A linebacker, Anderson could be the top pick in the NFL Draft next year. He was named the top defensive player in college football for the past two seasons. His trophy case also boasts the Lott, the Bednarik and the Lombardi Award. He is a unanimous All-American this year, just like he was in 2021.
Anderson has nothing to gain and everything to lose by playing in the Sugar Bowl. He'll line up one last time with the rest of the Alabama defense on Dec. 31.
We joke about the SEC's "It Just Means More" mantra. This column will jump at any chance to call Auburn on the carpet for that "Creed" thing they like to talk about.
We're not getting into that territory here, but it means something that Young and Anderson are playing one last game in Alabama uniforms.
All that being said, both of them should reconsider and skip the bowl game. We're talking a ton of green, here.
OTHER BAMA STUFF
Alabama holds the record for most bowl victories at 44. The Tide's dramatic Cotton Bowl victory against Texas Tech was vacated for NCAA violations. Georgia is in second place on that list with 35 bowl wins.
While high-profile players will suit up for the Tide against Kansas State next week, Alabama lost handfuls of personnel to the transfer portal. The following players are expected to play elsewhere next season:
Traeshon Holden, WR
Christian Leary, WR
JoJo Earle, WR
Trey Sanders, RB
Khyree Jackson, DB
Amari Knight, OL
Tommy Brockermeyer, OL
Damieon George, OL
Javion Cohen, G
Braylen Ingraham, DL
OTHER AUBURN STUFF
Hugh Freeze is rounding out his staff at Auburn. He's hired former Tulsa head coach Phillip Montgomery to call plays for his offense and Baylor defensive coordinator Ron Roberts to fill the same position on The Plains.
Montgomery oversaw high-performing offenses at Houston and Baylor, developing quarterbacks Robert Griffin III and Kevin Kolb.
SAYING GOODBYE
The college football world was run aground by the passing of Mississippi State coach Mike Leach. It was difficult to think of Leach more than the sum of his press conferences, because he was so entertaining.
This column and podcast was not kind to coach Leach while he was with us, but the man loved – and contributed greatly on and off the field – the same game we love.
For that, we're grateful.
What did we get wrong? What games are you looking forward to? Let us know on Twitter or Instagram. Listen to Throw the Flag wherever you get your podcasts.