MADISON — By a unanimous vote Monday, the Madison City Council voted to annex the Publix supermarket at Clift Farm.
City Council President Ranae Bartlett said the annexation will immediately benefit the Madison City School system.
"The annexation of Publix in Clift Farms will result in immediate sales and property tax revenue for our school system," she told 256 Today.
The annexation brings in much needed revenue to the city after the Publix on U.S. 72 near Hughes Road closed in 2020. City officials said conservative estimates put the dollar amount around $700,000 in tax revenue per year from the annexation of the Clift Farm Publix supermarket.
Clift Farm is a Southern-style, mixed-use community on U.S. 72 on the western edge of Madison County. There are no plans to annex other businesses or other parts of the development into Madison.
Bartlett said the annexation also helps finance the completion of the Town Madison interchange on I-565.
"It is also a key component of making the deal at Town Madison work for the city and completing phase II of the interchange," she said. "Tax revenue from Town Madison and Publix will be sufficient to make our bond payment under the revised funding agreement and excess revenue from Town Madison will now flow to the city to use in other areas."
Town Madison, a more-than 550-acre, mixed-use development along I-565, is home to the Minor League Baseball Rocket City Trash Pandas at Toyota Field and several restaurants and retailers. Town Madison also includes single-family homes, apartments, townhomes and hotels.
"This is a good decision," said Mayor Paul Finley. Once the bonds are paid off – in about 10 to 12 years – the city will be able to provide about $9 million for services to the residents, he said.
"Let's make sure the investment we have made is complete," said Finley. "This is a big thing for our city and one that has a huge reward."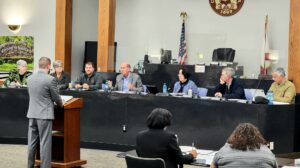 The interchange will allow westbound traffic to exit Toyota Field and Town Madison and provide a westbound on-ramp to the community.
Joey Ceci, president of Breland Companies, said the interchange is good for Toyota Field and Redstone Arsenal. Breland is the developer of Town Madison and Clift Farm.
It will also allow Town Madison to reach its fullest potential, he said.
"Town Madison is thriving today with many new restaurants, but we have additional prospective tenants that need the full interstate access that completing this interchange will provide," he said.
Ceci said commuters will also benefit from the flyover project.
"Completing the new interchange will provide a second interstate access point for Redstone Arsenal," he said. "This will allow for more commuters to use Gate 7 at Zierdt Road, reducing the traffic load at Gate 9 at Research Park Boulevard which becomes backed up many mornings."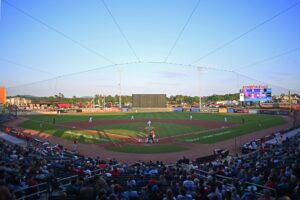 Construction on the interchange will begin immediately and is expected to take about 15-18 months to complete.
The Publix supermarket annexation next goes before the Madison Planning Commission for zoning.