HUNTSVILLE – Cummings Research Park tenants and business leaders celebrated 60 years of history with an eye to an exciting future.
The gathering was the 60th anniversary celebration for the innovative research campus, hosted by the Huntsville-Madison County Chamber.
"Innovation can and must create both equity and economic mobility for all," said keynote speaker Thomas Osha, executive vice president of Wexford Science + Technology and board chair of the Global Institute on Innovation Districts.
The celebration luncheon was presented by Teledyne Brown Engineering, Research Park's first tenant – then known as Brown Engineering.
"We witnessed the tremendous growth, and that's all from the forward-thinking leadership not only of the past with Milton Cummings and Bill Moquin, but also from the current leadership we have," said Scott Hall, president of Teledyne Brown. "Cummings Research Park is a very exciting place to work and live, and I can't wait to see what we accomplish in the future."
Erin Koshut, executive director of Cummings Research Park, spoke about innovation and the trends that will impact the park.
"It should be both a challenge and an opportunity," she said. "Innovation doesn't happen without an ecosystem around it that supports, nurtures and celebrates. It's up to us to nurture and cultivate innovation, right here in your research park. It's why we do what we do.
"We activate the park for your current and future employees to ensure a vibrant community with activities and amenities to enjoy. We attract smart companies that want to collaborate and grow here; we invest in the park to enable better access to the places and spaces where we work, live, learn and play."
Osha took to the stage with a short prologue on why, in 1962, Dr. Wernher von Braun suggested "a different kind of place", which became Cummings Research Park.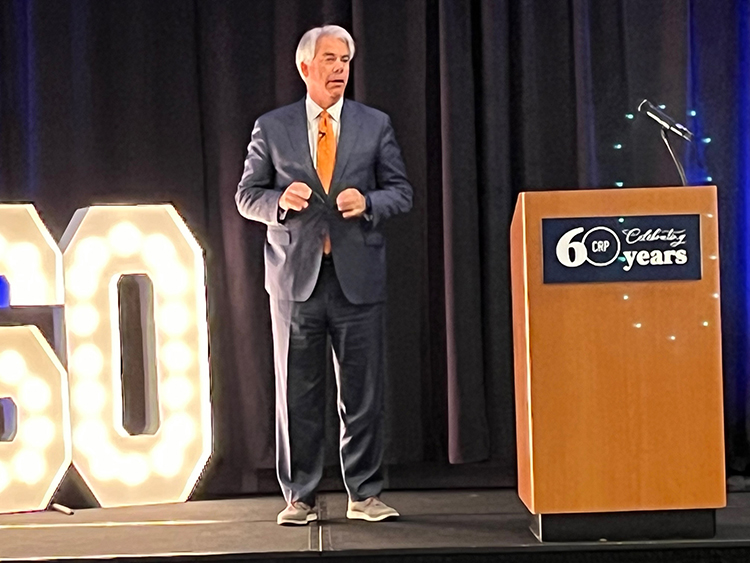 Von Braun had assembled his own team in Peenemunde, Germany where they worked in a cloistered environment on the highly secretive V-2 rocket.
"He understood the nature of the grand challenge … that what they were about to embark on – putting humans into outer space and on the moon and beyond, would require technology that had not been invented yet; approaches that had not been thought of; and disciplines and talent that went well beyond anything that even his team possessed," Osha said.
"He wanted a place that was transactional in its scope and hyper-focused locally on what he could bring together – an interdisciplinary component that was unparalleled in history."
Osha said there are several innovation trends that will impact Cummings, other research parks and innovation districts over the next seven to 10 years.
Research parks and innovation districts are becoming the platforms for sustained economic and inclusive growth, he said.
"Investments made in CRP benefit the entire Madison County area," Osha said. "It also concentrates resources and infrastructure for entrepreneurs."
Another trend is inclusive economic development.
"If you look across all jobs and opportunities, to be successful and sustainable, everybody must be able to participate in the wealth creation," he said.
The focus on "smart thinking over cheap labor," he said, will be America's greatest opportunity, the continued opportunity to apply smart thinking and then amplify that through collaboration, even if it is competitive collaboration.
Osha complimented the city of Huntsville for being unique with CRP being the only research park, he is aware of, where the city is the driving force.
"It does not exist anywhere else, in fact it can be argued that many parks don't want the city involved," he said. "But in Huntsville, there is enough prescience to put in place a structure that has been sustained over 60 years."
Another innovation is finding an intermediary between the space and defense industries, with more commercial opportunities that can have enormous value to the park.
Osha recommends that, over the next decade, CRP create an iconic beacon so that what is happening outside the park is as important as what is happening inside.
"These buildings are fascinating, but the public spaces between buildings are almost as important," he said. "That is where we connect to collaborate. That's where people bump into one another, but what is the pedestrians' experience?
"Where and what is the beacon in CRP that makes it an iconic center where everybody knows where it is? Find your beacon."
Create partnerships, pathways, and collaboration, and that will create impact, he said.
"Where can CRP go over the next decade or so?" Osha asked. "What will the watchword be?
"I believe it will be impact – the impact you have had on people, the impact you have had on economic mobility for all, and the impact you have on innovation by creating new industry clusters that don't exist today."