MADISON — It is almost June in North Alabama and there will be no stopping the heat.
But there is a new place in downtown Madison where the vibes are always chill.
Chillabay Dessert Bar has opened  on Shorter Street, across from the Avenue Madison and next door to Honest Coffee.
Owner Christy Wimberly said Chillabay is more than your average ice cream shop and is designed to be a safe and fun gathering place for the Madison community.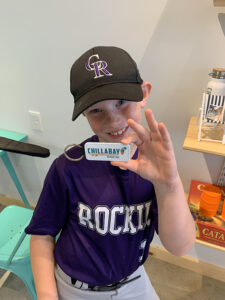 The shop features build-your-own ice cream cones and cups, shakes, floats, ice cream sandwiches and specialty desserts such as apple pie ala mode, cheesecake, brownie ala mode and decadent peanut butter bars.
Chillabay also has vegan non-dairy options, cold brew coffee and board games.
"Chillabay is a concept for the whole community really," said Wimberly. "It is a place where moms of preschoolers can come and get the kids a sweet treat, a bright and friendly afterschool hangout spot, a cool place to come with the family for dessert and a safe place for couples to come on a date.
"We have groups coming in to play board games which are provided and switched out periodically, but you can bring your own too. That has been a big hit and people seem to really enjoy those – and the ease of parking."
Wimberly said her favorite treat is the ice cream sandwiches.
"They have gone over very well I think because they are diverse," she said. "You can choose your own cookie flavor, ice cream flavor and add any toppings you want. We have a little press that warms up the cookie but keeps the ice cream cold. Those are a novelty item I can't keep my hands off."
Yum!
"We have received excellent response to vegan and gluten-free options too because I don't think many shops carry those options."
Wimberly is no novice to starting businesses. She opened a juice bar in 2014 and is the founder and owner of multiple Honest Coffee shops.
"I have seen the need in the non-dairy space here in Huntsville and Madison at both Honest Coffee and Chillabay where people come out to eat but they have some dietary restrictions that are not always easy to accommodate," she said. "There is definitely a need in this community for those vegan and gluten-free options so I saw an opportunity to provide those and people are taking advantage of it."
She said Honest Coffee next door has done well since opening last fall and she has received a lot of excitement about Chillabay opening.
With the new Journey Middle School opening this fall and the increased walkability of downtown Madison, she said Chillabay will soon be the coolest place in Madison to wet – and sweeten – your whistle.