HUNTSVILLE – The holiday travel season is in full swing, and AAA predicts 4.5 million Americans will fly to Thanksgiving celebrations in 2022, an 8% increase over 2021.
The Thanksgiving travel period traditionally runs from the Friday before the holiday through the Sunday following Thanksgiving.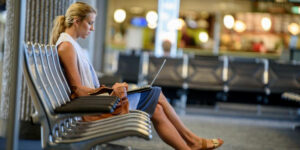 With so many people hustling through concourses and security checkpoints, travelers can expect their travel time to take longer, according to the Transportation Security Administration.
"Huntsville International Airport is convenient and TSA lines are typically brief, but holiday travelers should arrive at least 90 minutes to two hours ahead of their flight departure time," said Mary Swanstrom, public relations manager at Huntsville International Airport. "This allows plenty of time to check bags and process through the TSA security checkpoint during this heavy holiday travel period."
Travelers can be delayed at TSA checkpoints if they have prohibited items packed in carry-on bags, she said. The traveler must then go back to the ticket counter to check their bag or the disallowed items must be returned to their parked car or disposed of.
Firearms are not allowed in carry-on luggage and can't be carried through the TSA checkpoint. So far this year, TSA officers have stopped 61 guns at checkpoints in Alabama.
Firearms can travel in checked bags, but they must be unloaded, packaged in a locked, hard-sided case and declared to the airline at check-in.
"It's better to be prepared at the checkpoint and not surprised," Swanstrom said. "When packing bags, travelers can review TSA travel tips at tsa.gov. There's also a handy 'what can I bring' guide on the website with detailed information about pretty much anything you might want to take on a trip."
HSV offers these tips for Thanksgiving travelers:
Pack smart. Prepare for security when packing and ensure that there are no prohibited items in your bags. Liquids should be packed in checked bags if not adhering to the 3-1-1- rule (3-ounce liquids packed in a single, one-quart clear zipper bag.) Passengers can bring solid foods such as baked goods through the checkpoints.
Ensure you have proper ID. Before heading to the airport, travelers should make sure they have acceptable identification that can be presented. Identity verification is an important step in the security screening process.
Arrive with extra time before departure. Enjoy frustration-free travel with plenty of time to check in, get through security and settle in.
It's okay to bring hand sanitizer. TSA allows travelers to bring one liquid hand sanitizer container up to 12 ounces per passenger in carry-on bags. Keep in mind that hand sanitizer containers larger than 3.4 ounces will need to be screened separately, which will add some time in the checkpoint experience.
Request passenger support if needed. Travelers or families of passengers with disabilities and/or medical conditions may call the TSA Cares helpline toll free at 855-787-2227 at least 72 hours prior to flying with any questions about screening policies, procedures and to find out what to expect at the security checkpoint. TSA Cares also arranges assistance at the checkpoint.
Get your questions answered before you head to the airport. Ask TSA! Travelers can get assistance in real time by submitting their questions and comments to @AskTSA on Twitter or Facebook Messenger. Travelers can also reach the TSA Contact Center at 866-289-9673.
Remain aware. As a reminder, public awareness is key for supporting TSA's security efforts. Travelers are encouraged to report suspicious activities, and remember: If You See Something, Say Something. For additional information about TSA's screening policies, visit www.tsa.gov.