HUNTSVILLE — During a Thursday address to the Huntsville/Madison County Chamber of Commerce at the Von Braun Center, Gov. Kay Ivey announced three major infrastructure projects that are in store for North Alabama.
The governor advised that she recently met with Huntsville Mayor Tommy Battle, Madison Mayor Paul Finley, Madison County Commission chairman Dale Strong and the local legislative delegation to discuss the area's infrastructure needs.
"We discussed this great progress we've made as well as some other projects that are needed in this area," said Ivey. "And let me just tell you, your local elected leadership officials can give a strong pitch. So today I am thrilled to announce not just one, but three major projects for the area."
The projects Ivey announced and the associated costs are as follows:
Widening Interstate 565 from County Line Road to Wall Triana Highway: $11,700,000
Widening U.S. 72 West from Providence Main to Nance Road: $50,000,000
Widening Alabama 53 from Taurus Drive to Harvest Road: $50,000,000
The City of Huntsville and Madison County Commission partnered to provide a 40% match to the state's 60% pledge in funding for the projects.
In a statement, Battle hailed the investment in the second round of the city's Restore our Roads (ROR2) plan.
"To be a growing, prosperous city you have to have a transportation grid that supports the needs of your workforce," said Battle. "These three major projects are a strong start in accomplishing our ROR2 plan to keep metro Huntsville thriving and provide a high quality of life."
In her remarks, Ivey asserted that State Sen. Tom Butler (R-Madison) had been a "strong advocate" for the expansion of Highway 72.
The North Alabama lawmaker touched on the economic growth his district had experienced of late and thanked Ivey for her commitment to addressing the area's infrastructure needs.
"I was glad to join Governor Kay Ivey as she announced several significant infrastructure projects impacting North Alabama," said Butler. "The economic development and growth in Alabama's Second District is booming with the U.S. Space Command, FBI relocation, Mazda Toyota Manufacturing plant, and many more ventures bringing thousands of jobs to the area."
He added, "Four years ago, I walked car to car on Highway 72 and promised the people of the Second District that I would work toward solving the challenges we face with our infrastructure. Today's announcement was the first major step to ensuring that promise is delivered. I am thankful for Governor Ivey's leadership and support, which have allowed these much-needed projects to launch."
Strong spoke to the partnership among elected leadership that was formed to bring about infrastructure enhancement for the residents of the Tennessee Valley.
"I am proud to partner with Governor Ivey, Mayor Battle and Mayor Finley to build new roads that will help commuters from across North Alabama," Strong said in a statement. "These major arteries carry commuters from a 17 county region that travel here every day."
"This is another example of how we can do big things when we work together as a region," declared the commission chairman.
Pictured is an outline of the projects and the funding breakdown: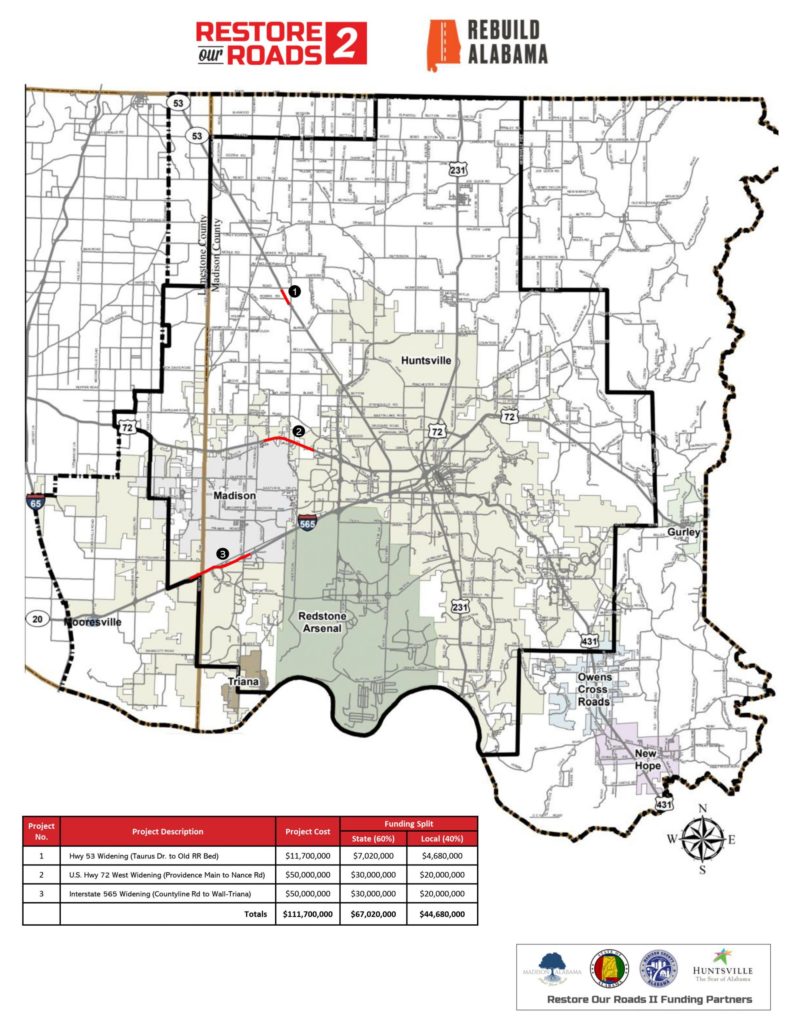 (Courtesy of Yellowhammer News)