HUNTSVILLE — It's been a wild March weather-wise in the Tennessee Valley. And it will continue as we reach the final weekend of the month.
The National Weather Service's Huntsville office said Wednesday there is a potential for strong to severe thunderstorms affecting parts of the region Friday into Saturday. Locations near and west of the Interstate 65 corridor have a higher chance of being impacted by severe weather, the office said.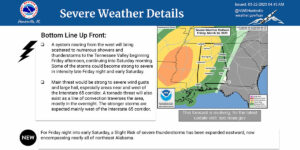 "We are now keeping an eye out for a severe weather potential for Sunday night," forecasters said. "A system nearing from the west will bring scattered to numerous showers and thunderstorms to the Tennessee Valley beginning Friday afternoon, continuing into Saturday morning.
"Some of the storms could become strong to severe in intensity late Friday night and early Saturday."
The weather service said the main threat would be strong to severe wind gusts and large hail, especially areas near and west of I-65. A tornado threat will also exist as a line of convection passes the area, mostly in the overnight hours. The stronger storms are expected mainly west of the I-65 corridor.
High amounts of moisture associated with this system could result in excessive rainfall as well, with a risk of areal and flash flooding from late Friday into Saturday. Water level rises in areal creeks, streams, rivers and lakes are possible over the weekend as well.