HUNTSVILLE — Never, perhaps, has a single industry been so negatively affected by unexpected circumstances as the local hospitality industry was during the pandemic.
But it is on the comeback trail with current numbers better than the record-breaking pre-pandemic numbers.
Huntsville entered 2020 with growing momentum, flying high from 2019, a watermark year with the 50th anniversary of the Apollo 11 moon landing and visitation to the Space & Rocket Center an all-time high of more than 1 million.
As a sure sign of recovery, the Huntsville/Madison County Convention & Visitors Bureau was at the center of two major announcements last week. 256 Today spoke to Bureau President/CEO Judy Ryals and Executive Vice President Charles Winters about the state of the local hospitality industry.
"Alabama was among the top five states in the U.S. with the least amount of falloff due to the pandemic, so our whole state is recovering well," said Ryals. "Huntsville itself has been a large part of making that happen."
New Announcements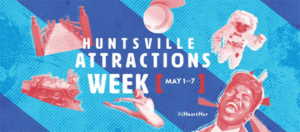 Last week, the bureau joined the Rocket City Trash Pandas, the University of North Alabama and the City of Madison in announcing UNA will play Jacksonville State in a football game this fall at Toyota Field – a move estimated to have an economic impact of up to $1 million.
The CVB followed that announcement with news that, in conjunction with the celebration of National Tourism Week this week (May 1-7), it is  reinstating Attractions Week with every day highlighting the area's various attractions, outdoor activities and unique venues.
Hotels
Hotels base their health on key performance indicators of occupancy, average daily rate and revenue per available room.
"All key indicators are at or above pre-pandemic 2019 levels," Winters stated. "We are particularly excited about that because three new hotels opened during the pandemic – the Curio at 106 Jefferson, the Hampton Inn and the Holiday Inn Express, thereby increasing the number of rooms available over the past two years while we've still kept pace with where we were in 2019."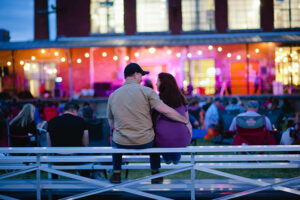 When an anomaly showed up in the data correlating air travel with hotel stays, Winters said they discovered a lot of those folks are driving two, three and up to six hours to come to Huntsville in large part to spend the weekend.
Huntsville as a Hub
That is encouraging, according to Ryals. City leaders are pressing the idea of Huntsville as a destination hub.
"People are using Huntsville as a hub from which they reach out to other activities like visiting Unclaimed Baggage in Scottsboro or the Jack Daniels Distillery in Lynchburg, Tenn.," Ryals said. "We love it when people choose to stay overnight in Huntsville where they eat and shop, bringing additional dollars into the community."
And the draw will continue as Huntsville becomes a music destination.
"With the hiring of a city music officer and the Orion Amphitheater opening, along with the Mars Music Hall at the VBC, music is about to be a large part of why people come to the Huntsville area, and hopefully they will come from surrounding areas, stay overnight and dine in our restaurants," she said, after disclosing she is working on a partnership with Huntsville's Venue Group (Orion) to bring an international music conference to Huntsville in 2023.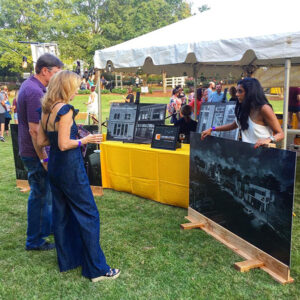 Air Travel
In terms of travel, Winters said business air travel has not returned to pre-pandemic levels, but based on numbers from the Huntsville international Airport, there is a significant jump in the number of people flying.
"What we hear anecdotally is that many of these travelers are taking longer to get through TSA screening, a sign they are likely leisure travelers unaccustomed to flying," explained Winters. "They are also traveling on Fridays and Mondays, another indicator of leisure travelers as opposed to weekday business travelers."
Local Events & Venues
On the business side, Winters said Huntsville and Madison lost more restaurants than people realize, but gained as many if not more over that same timeframe,
The Huntsville Championship at The Ledges, the Huntsville Comic & Pop Culture Expo and the Space City Tattoo Expo are new events that have been well attended, so there are signs people want to travel, and they are coming back with greater support and higher attendance.
"Put that together with leisure travel on the weekends and we see a lot of people bringing their families with them when they attend these conferences, visiting the U.S. Space & Rocket Center, Burritt on the Mountain, or the Botanical Garden, for instance," Winters said.
Locally, most annual nonprofit and charity events have returned, and several new projects have popped up including a partnership between the Singing River Trail, Ditto Landing and the Tennessee River Line; Joe Davis Stadium renovations; improved sports facilities and parks that better facilitate soccer tournaments, swim meets, etc.; and unusual activities like motorized surfing (MotoSurf). Add that to the renovation of Stovehouse, Lowe Mill, and Campus 805, and they are all attractive to people coming from the surrounding areas.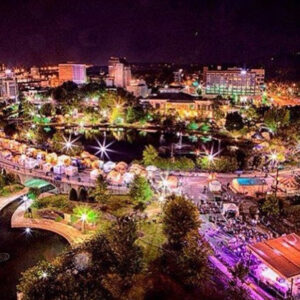 Workforce Woes
If there is one downside to the comeback, it is the universal concerns about workforce and staffing.
"The workforce challenge we have as an industry is that many hospitality businesses had to lay off or furlough their workers," said Winters. "Those folks found other jobs, many of them no longer in the hospitality industry. When things started to turn around, those folks weren't available."
Ryals said worker shortages at hotels, restaurants and different attractions are still negatively impacting some companies' ability to handle high capacity.
"Going forward, the challenge will be to keep the level of service up for locals and visitors alike."