ATHENS — An iconic building in downtown Athens is about to have a rebirth thanks to three new residents of the city.
Ryan and Renee Gilroy and Chelie Lacrosse-Yawney are opening Irons & Ales in the soon-to-be renovated Sunbeam Bread building.
The Gilroys moved to Athens from Connecticut in 2021. Soon after, Chelie and her husband decided to make Athens their new home as well, moving from Scottsdale, Ariz.
"This is a family affair," they posted on Facebook. "We all have fallen in love with the charm of this wonderful town, and when we decided we wanted to create this business, we knew we wouldn't want to establish it anywhere else.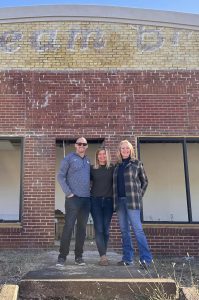 "This business is family-owned, veteran-owned, and a true labor of love."
The building at 217 Madison Street is in the Arts & Entertainment District, across the street from the Farmer's Market, and a block from Kreme Delight.
With extensive renovations planned, the opening is set for next spring.
The nearly 6,000 square feet of space will feature four state-of-the-art golf simulators, a bar, lounge, a food menu and games for kids and adults.
Some of the activities will include open play; men's, women's and co-ed leagues; monthly tournaments including the "soon-to-be-famous Athens Open," the news release said.
The family friendly business will also include space for corporate and social events.
"We can't wait to be part of the downtown Athens family," they said.