HUNTSVILLE – If you see any escaped robots roaming Huntsville's streets, call Marathon Robotics because they will likely belong to the new kids in town there.
The company made exciting news for Huntsville this morning when it inaugurated the nation's first autonomous ground robot production facility, specifically for military and police training,
Elected and civic officials attended the ribbon-cutting for the company's North American headquarters at 4950 Gilmer Drive in Huntsville's Cummings Research Park.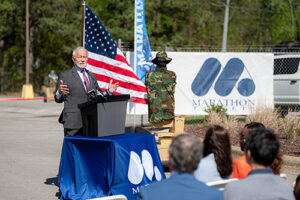 "These robots solve a fundamental problem for militaries and law enforcement – the only time they practice shooting bullets at realistic moving targets is in a real firefight," company President Ralph Petroff said.
"Alabama is the best place in the nation for businesses supporting America's aerospace, aviation and defense communities," said U.S. Rep. Dale Strong (R-Monrovia). "I've had the opportunity to practice shooting these robots. As a member of the House Armed Services Committee, it's my honor to play a role in ensuring our warfighters have what they need to be successful."
He said Marathon is helping men and women in uniform be more effective and prepared. Prior to Marathon, the soldiers practiced by shooting at paper or pop-up targets. Many soldiers he said went on to fight with little more than that type of practice.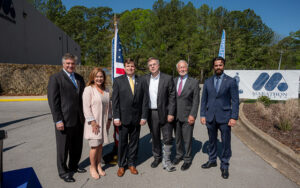 "Our government needs to take advantage of cutting-edge technology like Marathon's autonomous robots to protect our nation," Strong said. "This new facility highlights Marathon's commitment to ensuring the safety of America and to investing in our community."
Mayor Tommy Battle thanked Marathon for its investment in Huntsville – an ideal location.
"This technology was a perfect candidate for the Alabama Robotic Technology Park, and now we're proud they've chosen to expand in Huntsville's Cummings Research Park," he said. "Marathon is a great example of how industry supports Redstone Arsenal, our economy and our armed forces."
The new facility will support the manufacture of the company's Autonomous Robotic Training Systems, which is mannequins mounted on armored, intelligent robots that operate on test ranges to train military and law enforcement personnel.
The robots move independently, flinching or lying down when shot, and can scream as they run for cover or charge toward the firing line.
The result is greatly increased readiness for armed forces and law enforcement, reducing combat stress, improved accuracy and better outcomes in shoot/no-shoot decisions.
The systems are already widely used by the Marines and by select Army, Navy, SOCOM and federal law enforcement customers, as well as partner nations on four continents.