HUNTSVILLE — Area law enforcement officials are asking motorists to use extreme caution due to the potential of black ice. If you do not have to be out on the roads this morning, please stay home.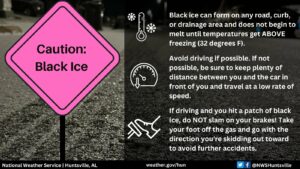 For state highway conditions, visit https://algotraffic.com/.
One road in Huntsville, though, was closed for a different kind of weather-related reason.
According to Huntsville Police, Cecil Ashburn Road was closed "due to the high number of abandoned vehicles (overnight) blocking the roadway."
However, the road is open and vehicles blocking lanes of travel have been moved to the Land Trust parking lot.
But police are asking people, who abandoned their vehicles on Governors Drive, to move them by 2 p.m. 
to help ease traffic in the area.
Local, county and some state government offices have delayed openings today due to the hazardous driving conditions.
All Madison County offices including the Madison County Courthouse and Madison County Service Center will open at noon today. Madison County Sanitation will be running Monday's route later today as the roads clear.
Redstone Arsenal and the Marshall Space Flight Center are closed, except for essential personnel. Gate 9 is the only gate open.
Madison roadways are improving through the morning, however, barriers are still placed at impassable roads.
"The (Madison County) Sheriff's Office is thankful for our personnel over the last 24 hours; patrol, dispatch, corrections, etc.," Public Information Officer Brent Patterson said. "The roadways are looking better at this time but are asking the citizens to use caution when on the roads.
"Any wet areas later this evening will be turning to ice once again."
The Athens Street Department has sanded some bridges and streets, and helped the East Limestone area, but warns motorists that streets are slick in some areas in the city and county.
The Jackson County Emergency Management Agency said all roads are impassable at this time. Road conditions will not improve until temperatures are above freezing.
The Brindlee Mountain Fire Department in Morgan County posted on Facebook: "The mountain on 231 is in pretty good shape it only has a few spots in the left lane northbound and southbound looks good. The area from Morgan City at the county line to the top of the mountain is solid ice but traffic is moving. It doesn't look like it has been salted."
The Marshall County Sheriff's Office reported a majority of roads on Grant Mountain are impassable. The office advises residents to stay home if possible.
In Huntsville, Governors Drive and elevated portions of Memorial Parkway, I-565 and Research Park Boulevard have reopened, but are down to one lane in each direction. All other road closures remain in place.
Huntsville police advise caution on Governors Drive due to abandoned vehicles on the road.
Huntsville road closures as of 6:45 a.m.:
 Cecil Ashburn Drive
Hobbs Island Road (impassable)
 Bankhead Parkway
 Green Mountain Road
 Plummer Road between Research Park Boulevard and Jordan Lane
 Old Monrovia Road
 Sparkman Drive
 Chapman Mountain
 Mountain Gap Road (impassable)