HUNTSVILLE – It was a jazzy sort of day Wednesday at Huntsville's Big Spring Park.
There, Mayor Tommy Battle and Kenny Anderson, director of the city's DEI office, counted off the names of some of the nation's top jazz artists scheduled to perform this fall in the annual Jazz in the Park concert series.
The free Sunday concerts in Big Spring Park East run Sept. 3 through Sept. 24 and feature three jazz artists per day.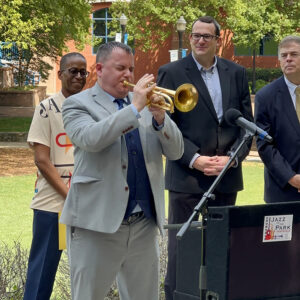 "Music is a universal language," said Anderson. "When people come out for Jazz in the Park, they have an opportunity to connect with people across the whole spectrum of our community."
Battle described Jazz in the Park as one of the city's signature events the community looks forward to each year. He said no matter what genre of music people enjoy, the musicianship of the performers is often awe-inspiring.
"It features some of the best players in jazz today and we're lucky to have them on our stage," Battle said. "When people come to Jazz in the Park, they know they're going to see a display of amazing talent."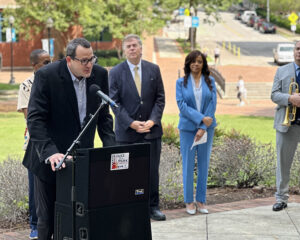 This year's festival will act as a kick-off event for Huntsville Music Month, observed each September.
Music Officer Matt Mandrella said Jazz in the Park's enduring popularity is paramount to transforming Huntsville into a music city.
"Huntsville is incredibly lucky to have a long-running signature music series of this caliber that has been embraced by the community," he said. "Jazz in the Park is a pillar of our annual music calendar and a vital part of growing our music ecosystem because it keeps us on the radar of world-class talent as well as potential visitors who need to see what we're about."
Local high school students get the jump on music education with jazz workshops as part of the seasonal program. These workshops expose young people to high caliber jazz recording artists and cover topics such as improvisation, section playing, tuning and intonation.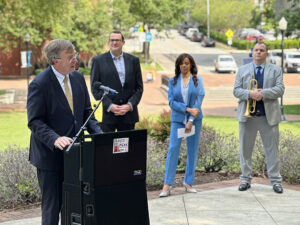 The schedule of performers is as follows:
Sept. 3
5 p.m. – Erisa Nicole
6 p.m. – Tr3ple Threat
7:30 p.m. – Jessy J
Sept 10
5 p.m. – Noelette Leader-Hutton
6 p.m. – Chandra Currelley
7:30 p.m. – Brian Simpson
Sept. 17
5 p.m. – Calhoun Community College Show Band
6 p.m. – BK Jackson
7:30 p.m. – Alex Bugnon
Sept. 24
5 p.m. – Angela Bryant Brown
6 p.m. – Marqueal Jordan
7:30 p.m. – Ben Tankard
Jazz in the Park-Huntsville is a collaboration between the City's ODEI and Parks & Recreation Department.
For more information, visit the Jazz in the Park-Huntsville Facebook page.
Click here to learn more about ODEI.
Click here to visit the Huntsville Music Office.