Beginning next Wednesday, April 20, 256 Today will feature one of the nine Launch Tank winners every Wednesday over the next 10 weeks to share with our smart readers the ingenuity of the winning Launch Tank concepts, how the companies came up with their ideas, and how they are progressing in terms of getting them off the ground.  
Now that the inaugural Singing River Trail Launch Tank competition is over, it's just the beginning for the nine winning entrepreneurs who pitched their business ideas at the "Shark Tank"-style competition presented by Launch 2035 and the Singing River Trail.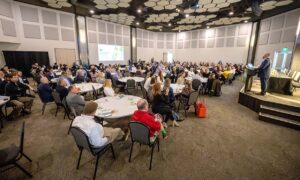 Rather than being the biting experience we see on TV's "Shark Tank," it was an exciting and inspirational opportunity for North Alabama entrepreneurs to show how their business ideas have the potential to enhance the economic and cultural experience of the Singing River Trail throughout the eight counties – Jackson, Marshall, Madison, Morgan, Limestone, Lawrence, Colbert and Lauderdale Counties – represented in the competition.
Held at the Cook Museum of Natural Science in Decatur, more than 200 people attended the awarding ceremony last month where the winners were awarded cash prizes to further their business efforts.
The first-place winner, Fellows Faith Enterprises of Madison County, has created a luxurious family camping resort and retreat in the secluded meadow of Selah's Acres.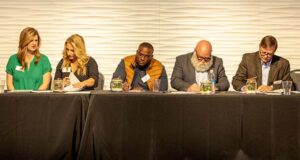 FFE was awarded $5,000 in cash and an additional business start-up package valued at thousands of dollars' worth of business support services and mentoring. These add-ons include coaching support from the Decatur-Morgan County Entrepreneurial Center; an angel investor meeting and mentoring; a Business Council of Alabama (BCA) membership fee waived for one year; the possibility of a $100,000 credit line through the Top of Alabama Regional Council of Governments (TARCOG); a Human Resources consulting package by Spur Staffing; and a waiver for the application fee at Alabama Launchpad.
The Wild Honey Tent Co. in Madison County and Next Step Farms in Morgan County were each awarded $3,000.
The Wild Honey Tent Co. creates curated camping packages where people can enjoy a "glampsite" luxury camping adventure without having to pitch your own tent or sleep on the cold hard ground.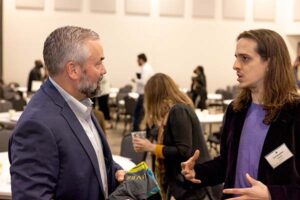 Next Step Farms, currently operating out of Providence Baptist Church in Huntsville creates day programs that teach daily living skills to people ages 18 and up with special needs. Those programs cover a variety of topics from animal husbandry, horticulture and landscaping to mechanical maintenance, culinary techniques and much more.
Airen Health Solutions of Madison County and Gingerhead Bakery in Lauderdale County both won $2,500 in cash for their ideas.
Airen Health Solutions got their start in 2018 as an NIH-funded research project at Huntsville's CFD Research Corporation. The goal of the project was to turn vestibular rehabilitation exercises into fun and engaging games to make at-home therapy more fun and increase patient adherence. That research project has grown into a complete digital solution for at-home therapy that is ready for use by clinicians and patients.
The 14-year-old owner of Gingerhead Bakery created a mobile bakery capable of creating some of the most creative cake styles imaginable for any occasion.
Shoals MTB in Colbert County, Bizzly, Inc. in Madison County and HUBS Coop also in Madison County each won $1,500 for their young businesses.
Shoals MTB is a company made up of trail runners, cyclists and hikers who work as a community to make trails better by taking on the responsibility of maintaining and developing trails throughout the Shoals area. They work to help the outdoor recreational community thrive and develop more opportunities for all types of trails users.
Bizzly, Inc. offers memberships that unlock exclusive deals and discounts to local businesses; and the HUBS Coop is a nonprofit urban bike share located in the Mill Creek neighborhood, dedicated to getting all types of bikes out of storage and into the community by helping people maintain safe equipment and teaching young adults how to repair and refurbish older bikes.
Outdoor Up of Jackson County brought home a $1,000 prize for their concept for Alabama's newest outdoor adventure company.
While most of the winning entrepreneurs have business ideas entrenched in outdoor experiences, all business types were encouraged to apply and pitch their idea.
According to Toni Eberhart, Launch 2035 entrepreneurship co-chair, finalist pitches were diverse.
"We are exceptionally pleased with the results of Singing River Trail Launch Tank in its first year," said Eberhart. "Our program applicants and finalists represented a diverse mix of entrepreneurs from rural and urban areas who aspire to grow business across the sectors.
"We attribute our success to the strong support and commitment offered by our county collaborators, sponsors and partners who understood the vision for Launch Tank and worked relentlessly to encourage new and existing entrepreneurs in their communities to participate."
Presented by Booz Allen Hamilton, Redstone Federal Credit Union and BizTech, the SRT Launch Tank exemplified the entrepreneurial spirit of North Alabama.
"Launch 2035's mission is to help the region see its collaborative value and not be confined by county lines," said Rob Hamilton, Launch 2035 chairman. "It's undeniable that a united North Alabama is stronger when it comes together, and Launch Tank is a shining example of that."
Launch Tank will return in 2023.
"Regional collaboration is the spirit of the Singing River Trail," said John Kvach, PhD., executive director of the Singing River Trail. "While implementing a 212-mile trail system spanning eight counties presents a inherit set of challenges, we are committed to incorporating opportunities for citizens in the communities within our footprint to participate in the economic, cultural, and recreational developments offered by the trail.
"The Singing River Trail Launch Tank provides that platform and we look forward to offering it again in the years to come."