Northrop Grumman and Raytheon Missiles & Defense are two names in Huntsville's robust defense industry that are best known for their roles in supporting the warfighter in protecting the homeland against foreign threats.
Recently, the companies stood shoulder-to-shoulder to battle a different type of threat: food insecurity.
Partnering with Rise Against Hunger, a nonprofit movement with the ambitious goal of ending world hunger by 2030, Northrop Grumman and Raytheon helped package thousands of dry meals for impoverished communities around the globe at a recent volunteer event.
The companies' respective Huntsville teams helped Rise Against Hunger package 10,000 dry meals.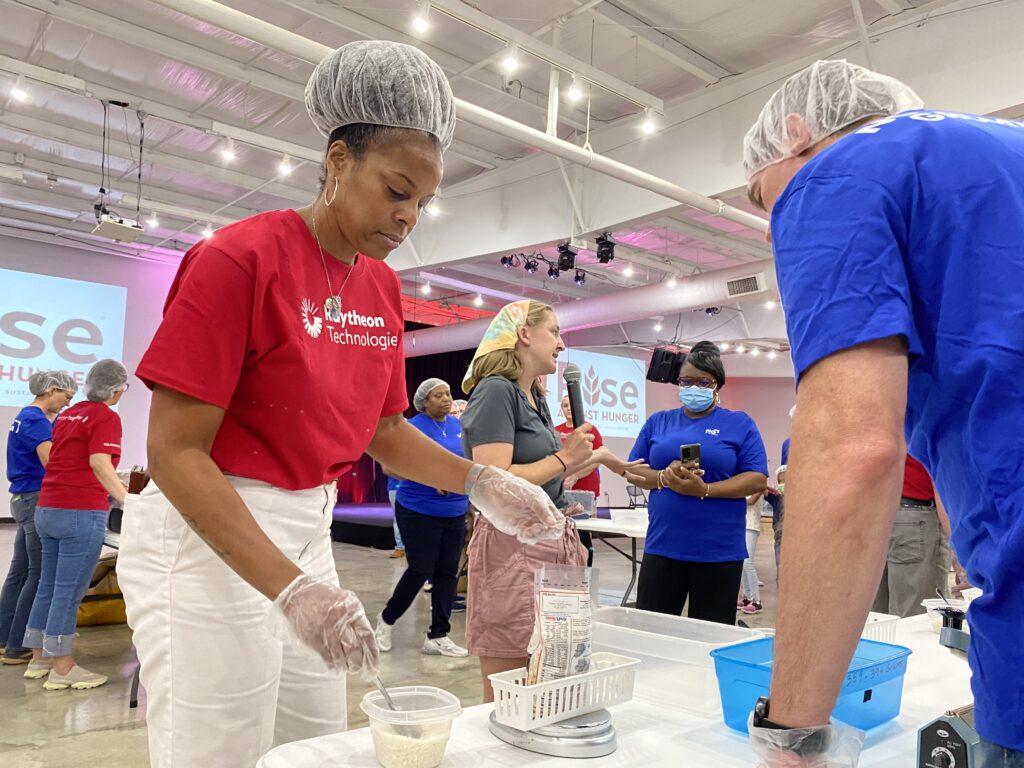 According to Rise Against Hunger, meals packaged in the Southeastern United States are targeted mostly toward poverty-stricken Caribbean countries, namely Haiti and Honduras, where economic hardship and climate conditions create an unstable food supply.
Alana Henley, Northrop Grumman's Next Generation Interceptor program operations director, detailed the company's commitment to advancing charitable causes.
"Northrop Grumman is committed to fighting food insecurity alongside Rise Against Hunger," said Henley in a statement to Yellowhammer News. "Since 2013, over 9,000 employees have engaged in volunteerism and packed close to 1,600,000 meals during Rise Against Hunger volunteer events. The recent meal packaging event was an impactful way for our employee volunteers to come together with Raytheon Technologies volunteers to strengthen partnerships in Huntsville and help those in need."
Northrop Grumman plans to continue its support of Rise Against Hunger this September as part of Hunger Action Month. The company intends to package meals across the nation, including Huntsville.
Click here to learn more about Northrop Grumman's commitment to philanthropy.
Melissa Morrison-Ellis, Raytheon Missiles & Defense's Next Generation Interceptor director, expressed the company's excitement in partnering for such a noble cause.
"It is a privilege to partner with programs like Rise Against Hunger who ensure the most vulnerable have access to food," stated Morrison-Ellis. "Nutrition impacts your mental and physical well-being, and our NGI team is grateful to play a role in this global movement."
Raytheon's corporate citizenship efforts can be viewed here.
Northrop Grumman and Raytheon actively serve to meet the national security needs of the United States and its allies. Their work in serving humanity does not end there, as the two defense industry powerhouses both hold well-documented histories of serving local and international communities.
Demonstrating their commitment to corporate citizenship, Northrop Grumman and Raytheon have formed longstanding partnerships with Rise Against Hunger to help in the effort to work toward the goal of ensuring no one suffers from food insecurity in the modern world.