HUNTSVILLE – With access to a college campus and little more than a mile from downtown Huntsville, Nexus on Holmes is envisioned as a community which "checks all the boxes."
Capstone Development Partners and Boaz Ventures are launching a $60 million purpose-built housing community adjacent to the University of Alabama in Huntsville campus on Holmes Avenue, they announced today.
The four-story 249-unit, 239,000 square-foot student housing community will house upper-division undergraduate and graduate students, university faculty and staff, and others, according to a news release. The mix of four-bedroom/four bath; two-bedroom/two bath; and one-bedroom furnished apartments will be adjacent to the University Fitness Center.
"Much of the housing in Huntsville is located too far away or is too expensive for UAH students, staff, or for local teachers, nurses or public sector employers," said Joey Azar, co-founder of Boaz Ventures. "As a Huntsville-based development company, we are pleased to bring this much needed university-oriented residential community to UAH and the broader Huntsville community, which offers a central location and well-designed, affordable apartment units."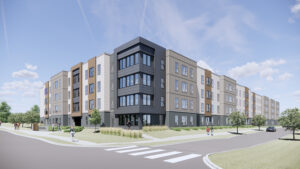 The project will provide indoor and outdoor amenities for residents, including two courtyards, an outdoor pool and BBQ grilling area, the news release said. There will be a community kitchen, TV lounge, multi-purpose room and quiet study lounges. Parking will be provided in surface lots adjacent to the community on land leased from UAH.
The developers said Nexus will feature ample green space and pedestrian connections to the campus. For non-related UAH residents, there is proximity to Cummings Research Park, Redstone Arsenal, MidCity, Bridge Street, and downtown Huntsville.
"As an Alabama-based national leader in the development and management of university-oriented housing, Capstone is thrilled to commence construction on this purpose-built housing community to help meet the needs of UAH students, staff and others in Huntsville seeking well-located and attainably-priced housing," said Jeff Jones, principal of Capstone Development Partners. "We look forward to pre-leasing this community in anticipation of its opening in summer 2025."
The project is being constructed by Fite Building and was designed by Williams Blackstock Architects. It is in a designated opportunity zone, and OPAL Investments (a for-profit subsidiary of Opportunity Alabama) is the lead equity investor.
A ceremonial groundbreaking ceremony will be held 10 a.m. Oct. 10.