Birmingham-based construction firm Robins & Morton is completing the construction of a $103 million build-to-suit facility for Northrop Grumman at Redstone Gateway. Using a complex tilt-wall building process, the structure will consist of two five-story buildings totaling 236,000 square feet.
Tilt-wall, or tilt-up construction, involves pouring the concrete walls horizontally on the building's floor slab at the job site. Robins & Morton poured 76 concrete panels last fall and used a 1.9 million-pound Manitowoc MLC-650 crane to safely erect 48 four-story, 60-foot-tall panels. They then completed the assembly of the building's exterior by stacking the remaining 28 single-story, 17-foot-tall panels. In total, the panels weighed more than 9.5 million pounds.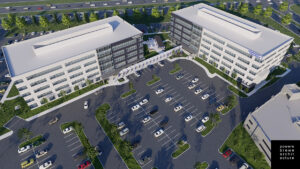 The construction team raised the final panel in August 2021, completing the structure in an impressive six months. They are currently finishing the exterior skin and interior buildout of each building.
The two-building campus will include a 144,000-square-foot parking garage and is scheduled to be completed in the second half of 2022.
"We've been partnering with COPT since 2012 to bring state-of-the-art facilities to Redstone Gateway," said Robins & Morton senior project manager Stephen Flournoy. "Northrop Grumman's lease only further contributes to the impressive line-up of leading aerospace and defense tenants at Redstone Gateway."
Robins & Morton is serving as the general contractor and the architect is Powers Brown Architecture.