GUNTERSVILLE — With a mission to keep customers happy by helping them "scoot in and scoot out" quickly, Scooter's Coffee's drive-thru-only locations have been percolating across North Alabama.
The newest Scooter's opened in Boaz this summer and owners Michael and Jenny Higdon are building a store in Guntersville, their second location in Marshall County. The Higdons, who are business and property owners in Guntersville, plan for more stores within their territory, which extends to northeast Birmingham.
"We've had a great response in Boaz," Michael said. "It's been above system average. We have loved all the positive feedback, it's been really great."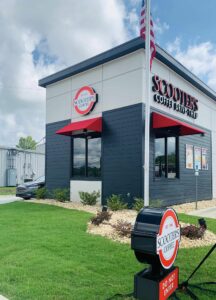 There are six stores in Alabama – Huntsville, Cullman, Athens, Boaz, Anniston, Alexander City – with six more under construction, including the Guntersville location. Around 25 new stores are scheduled to open in the state of Alabama within the next three years.
Scooter's Coffee was created in Bellevue, Neb., in 1998. Co-founders Don and Linda Eckles created the store – and still run it today – with these core principles in mind: Find a great location, stay committed to high-quality drinks, speed of service and a big smile. 
The "Amazing Drinks, Amazing People … Amazingly Fast" motto exemplifies the decades of success the company has maintained from standing by its original business principles; and it's those same values that attracted people such as the Higdons to the friendly franchise, as well as Scott Morris, who owns the Athens store. He has plans to open two more stores in Madison and two more stores in the Shoals area.
"It's a great concept," he said. "What really drew me to this company are the core values they have, which closely follow how I do business. Plus, the coffee is great. I like the business and the people working with us and the customers."
Scooter's Coffee has only been in North Alabama for a short time, but it's making an impact on the region – and now the entire state – in a big, amazing way.