MADISON — The Madison City Council approved an arts and entertainment district Monday night for Town Madison.
The Town Madison Arts and Entertainment District will allow customers 21 and older to purchase alcoholic beverages and carry them outdoors to drink within the designated boundaries of the district.
According to the ordinance establishing the district, its purpose is to enhance the public enjoyment of the district and to promote local arts, culture, and entertainment.
Huntsville has five such districts known for their colorful purple cups. The Madison district's approved containers will be kelly green.
According to the ordinance, the green cups will be "a non-glass container not exceeding a volume of 16 fluid ounces, which is provided to a customer by the seller who is an arts and entertainment district permittee."
City Planner Mary Beth Broeren said the district provides the same opportunities already in place in neighboring cities such as Huntsville and Athens.
"The district is meant to maximize arts and entertainment and maximize revenue," she said. "We don't have any in Madison so this will be an opportunity."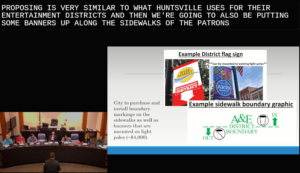 The district's boundaries encompass Toyota Field, the home of the Rocket City Trash Pandas, and extends to Zierdt Road to the east and to Town Madison Boulevard to the south. It also includes commercial parcels along the southside of the boulevard.
Broeren said entertainment districts are allowed by state law to be up to 160 acres; the Town Madison district will be 125 acres.
The district's regular hours of operation will be from 11 a.m. to 11 p.m. Monday through Saturday and 11 a.m. to 9 p.m. on Sundays. Permits for special events will be available, according to the council.
The Town Madison Entertainment District is set to open late January, pending ABC approval.