Our tagline, "Lighting the pathway to freedom," it's at the core of everything we do: Torch Technologies co-founder Bill Roark 
HUNTSVILLE — "I know all of you take that to heart and we work very hard to make sure we do everything can do for the troops and warfighters and make sure they come home safe," Roark said, speaking at the 20th anniversary celebration of Torch Technologies.
Roark spoke of the company's history and future at its Freedom Center campus which features research facilities and a 12,000 square-foot conference space.
Torch Technologies was cofounded by Roark and Don Holder in 2002. Two years later, they had 50 employees. Today, Torch is one of the largest federal contractors in the nation, with 1,200 employee owners.
"Twenty years is a significant milestone," said Roark. "We have expanded in Huntsville and across the nation and we remain committed to our employees and our future."
Roark and Holder began with a vision that their business would become an employee-owned company.  In 2011, nine years after their founding, Torch achieved 100% employee ownership.
Torch now has employee owners in California; Colorado; Florida; Hawaii; Maryland; Massachusetts; Michigan; New Mexico; Ohio; Oklahoma; Texas; Virginia; Washington, D.C.; Kwajalein; and Egypt.
The anniversary celebration also featured a tailgate, employees awards for excellence and salutes from Huntsville Mayor Tommy Battle and Madison County Commission Chairman Dale Strong.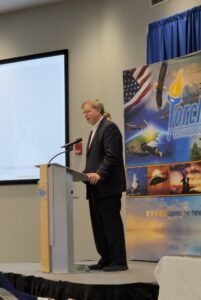 "You are builders," Battle said. "Over 20 years, you have built a company that is second to none, you have built this community, You have made this community a better place.
"You are a company of builders, who build and build and make this nation a great place."
Strong agreed.
"Torch has helped make Huntsville and Madison County what it is today," he said. "It's about employees that get the mission and that's the obvious thing about Torch."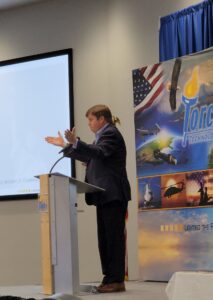 Roark also thanked Battle for his role in the company's South Huntsville headquarters location.
"It's your fault, mayor," said Roark as he recounted Battle's urging to build the Freedom Center campus on South Memorial Parkway. "Here we are in the middle of a re-emergence of a beautiful part of the city. And we are very glad to be a part of that.
"And that was your vision and thank you for talking us into that."
In March, the technology services and solutions company became Certified Evergreen. The certification reflects company's commitment to make 100% employee ownership sustainable so that Torch will remain a private company. The certification is awarded to lasting, private companies that intend to adapt and grow profitably for 100 years, and more.
"20 years is just a stepping stone," said Roark. "We are just getting started."