HUNTSVILLE — The numbers speak for themselves – three out of four child car seats in the U.S. are installed incorrectly. In Alabama, motor-vehicle crashes are the single largest category of accidental child deaths.
With that statistic as the backdrop, Huntsville Hospital for Women & Children has announced a partnership with Buckle Up for Life. Created by Toyota and the Cincinnati Children's Hospital Medical Center, Buckle Up works with pediatric hospitals and organizations to keep child passengers safe.
Kicking off Child Passenger Safety Awareness Month, the partnership gives the hospital's longstanding car seat education program a boost and by providing 50 car seats to be donated to families in need.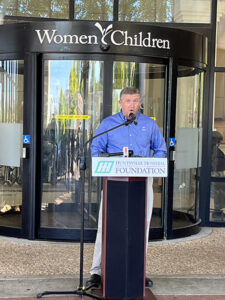 "This partnership is a win for not only our hospital, but for our community," said Elizabeth Sanders, vice president of Huntsville Hospital for Women & Children. "Buckle Up For Life provides us with additional resources to help sustain our car seat passenger safety service. We can now ensure that parents are equipped to keep their children as safe as possible in their vehicles."
The collaboration will further the hospital's work of ensuring parents, caregivers, and children in the Huntsville area have certified car seats and are educated on the proper installation and use of car seats, booster seats and seat belts.
"We want to help make sure that all families have the resources and education they need to help keep their children safe on the road," said Jason Puckett, president of Toyota Motor Manufacturing Alabama. "I speak firsthand as a grandfather who has a loved one in a car seat. The work of Buckle Up for Life and Huntsville Hospital saves lives.
"For Toyota and all of our team members, we want to make sure everyone has the education and the resources to go places safely. And while cars and trucks are safer than ever, and technology continues to advance – motor vehicle crashes remain one of the leading causes of death for children."
The two most common errors are improper installation – in particular, seat belts too loose – and the child not sitting in the seat correctly.
Dr. Jessica Branscome, medical director of Women & Children's Pediatric Emergency Department, said she looks at the partnership not just as a doctor, but as a mom.
"We see so many accidents where the car seats either weren't in the car or were not properly installed," she said. "I was so sure I had my first car seat in correctly, but as it turned out after using it a few times, I was 100% wrong!
"Now I know how to install my car seat and keep my children safe, so I want to encourage everybody – don't take it for granted you know what you are doing. I thought I did and didn't."
Karen Ivey, a registered nurse and technician and coordinator for the program, said she has been privileged to work with child passenger safety and the hospital's program for over 20 years.
"Our technicians attend an intense 3-day course where they learn how to install all kinds of car seats in all kinds of cars, and they study crash dynamics," she said. "As we begin our 20th year having trained dozens of child passenger safety technicians and installed many thousands of child restraints – we are ready."
The Huntsville Hospital car seat fitting program is free to the public but by appointment only. To schedule an appointment, call (256) 265-7296.
To donate to the program, click here.