Just as the Rocket City is about to launch a powerful music scene into orbit, University of Alabama in Huntsville alumna Danaё Xanthe Vlasse fired the first rocket when she won a Grammy Award for Best Classical Solo Vocal Album in March.
Vlasse graduated from UAH in 2003 with a degree in Piano Performance. She has been vocal about receiving a music education at UAH that is on par with any prestigious higher education music program.
"The wonderful thing to highlight," Vlasse said, "is that UAH may be known for the sciences, but the programs in the arts lay the foundation for nurturing relationships. I was one of six or seven students in some of my classes, so I had a lot of individualized attention."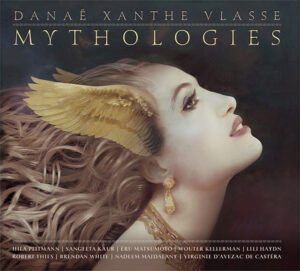 It was that customized educational experience, she said, and the support she received from faculty and through scholarships, that inspired her to stick with her aspirations that led to her success.
After graduation, Vlasse pursued her dreams of composing and performing by moving to Los Angeles where she has since written or collaborated on 11 albums. It is her most recent, entitled Mythologies, that won the Grammy.
"With this Grammy award representing both her compositional and piano performance skills, Danaë has truly knocked it out of the park with a string of exceptional musicians, including world-class sopranos Sangeeta Kaur, Teresa Mai and Hila Plitmann at her side," observed Dr. Carolyn Sanders, professor of Music at UAH and one of Vlasse's mentors.
Dr. C. David Ragsdale, professor and chair of the Department of Music and Theatre, said students and faculty at the Department of Music are proud of Danaё's career and many successes, including and especially her 2022 Grammy.
"Certainly, we are honored to have been a part of her musical journey and believe it underscores the quality and breadth of education students receive at UAH," Ragsdale said.
The 64th GRAMMY awards show took place in Las Vegas at the MGM Grand Garden Arena on April 3 after being rescheduled. Vlasse was up against a great deal of competition but dared to hope the album would win.
"The Grammys was an amazing experience. We were competing against huge names with many connections; three nominees were Metropolitan Opera stars. It was an honor to be up against these professionals whom I admire."
In the days following the awards, Vlasse said she's been inundated with emails, texts, and social media posts, and has noticed an uptick in people watching her music video and accessing her website. But the key, she said, is that the award brought "new ears" to her music and opened opportunities for performances and collaborations.
"I have worked on 11 albums since 2017," she explained. "I am thinking about the next album, but I've also been resting. A new album is slowly written and patiently recorded. I never want to expedite for the sake of completion. I will always focus on quality first."
Vlasse still teaches full-time, but she traveled abroad earlier this year, and in March, she performed at the South by Southwest music festival in Austin, Texas. She said she is hoping to find major venues around the world where she can perform.
Huntsville certainly has some for her with the Orion Amphitheater, Mars Music Hall and the Mark C. Smith Concert Hall to name a few!