HUNTSVILLE – A pair of researchers at the University of Alabama in Huntsville were recognized at the recent National Cyber Summit in Huntsville.
Dr. Tommy Morris, director of the UAH Center for Cybersecurity Research and Education
(CCRE), and CCRE Research Engineer Steven Forney were honored at the annual event.
Morris received the 2022 Cybersecurity Education Achievement Award and Forney won the 2022 Joe Popinski Cyber Excellence Award.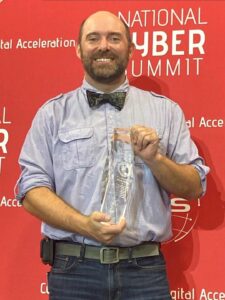 Morris was singled out for demonstrating major contributions to the local, state and national cybersecurity community. He founded the CCRE, one of the largest academic cybersecurity centers in the U.S.
"This is a very fitting and well-deserved recognition of Dr. Morris's accomplishments in the cybersecurity field," said UAH Vice President for Research and Economic Development Dr. Robert Lindquist.
"I am honored that my contributions to UAH and to the Huntsville community have been recognized," Morris said. "Of course, I work with a great team and we have done these things together.
"The best part of my job is helping students launch their careers. I get great satisfaction when I meet a graduate a few years later and hear how well things are going for them."
Forney was lauded for his work in bringing cybersecurity research and education to the
deaf community, mentoring students and supporting federal and state cybersecurity initiatives in research and education.
"Being able to communicate with my CCRE team in American Sign Language (ASL) is what I enjoy the most about my job," Forney said. "It was an honor and privilege to receive this
award, it could not have been done without excellent support from my CCRE team."