FLORENCE  – The University of North Alabama Athletics marked a second straight year of record fundraising and external revenue generation, topping $20.6 million during the 2023 fiscal year.
Highlighted by the naming of three facilities or positions – CB&S Bank Arena, The Schmitz Family Head Men's Golf Coach, and the future Bank Independent Stadium – the support of the full UNA community was acknowledged by Director of Athletics Dr. Josh Looney.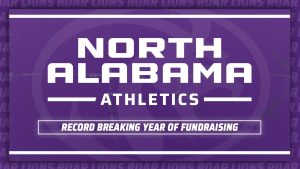 "The importance of aligning athletics fundraising with institutional and community priorities cannot be overstated, and we enjoy incredible alignment at UNA," Looney said. "Giving has a direct impact on the current and future success of our programs and student-athletes.
"We are beyond grateful for the generosity of UNA supporters who have helped generate powerful momentum going into our second year as a full member of Division I."
The record-breaking effort was fueled by more than $19.6 million in cash and pledges, which topped the previous high of $9.7 million from FY22. Philanthropic gifts were given by 676 unique donors, and the Lions Athletic Club enjoyed a 3% increase in annual giving.
UNA's external revenue generation also included more than $749,000 in corporate partnerships, a 5% increase from the high set in FY22. An additional $516,121 in ticket sales completed the FY23 revenue totals.
Gifts helped fund construction of the Hilda B. Anderson Indoor Softball Facility; football, soccer and volleyball locker room renovations; athletic training room remodel; a beach volleyball scoreboard; UNA golf and tennis office renovations; a new area for the student-athlete academic success center; renovations to the Hal Self Field House; a state-of-the-art lighting system at the UNA Tennis Complex; a new cross country space within CB&S Bank Arena; and the rebranding of every athletic facility with new logos and branding.
"Alignment across all facets of campus has created a culture in which people want to be a part of the growth and excitement of this campus community, and specifically, North Alabama Athletics," said Director of Development Payton Haslam. "It is rare to see an Athletics Department and Advancement operation work so closely together, and we are great benefactors of that healthy relationship across campus.
"There is one thing that I am certain of – there are great people in this community, Northwest Alabama, and beyond, who deeply believe in the vision of UNA Athletics and have been incredibly generous with their support of our student-athletes."
An ongoing project for the university is Shine On, Gold – the $100M comprehensive campaign for the University of North Alabama. Bank Independent Stadium is one of the seven core priorities in this project. For more information, visit una.edu/shineongold.