HUNTSVILLE — Four years ago, Army veteran Jason Swafford began his journey to build a logistics company that would support the Army Aviation community.
That company, JS Solutions, reached a major milestone this week with the opening of its corporate headquarters.
"I knew we had an immense opportunity ahead of us which required an innovative approach," he said at the ribbon-cutting ceremony in the West Park Loop office park off University Drive. "We promised an agile team that could adapt to the changing needs of our nation's military, address contract requirements, and bring a collaborative mindset that is welcomed in everything we do. What I did not know is how welcoming and supportive this community would be to something like that.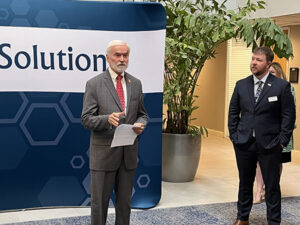 "At that time, it was just a vision, but every step we took to build a foundation at JSS was met with acceptance curiosity encouragement and strength. There has been a team rooting for our success at every milestone we have achieved."
Joe Fitzgerald, civilian aide to the Secretary of the Army, praised Swafford's military service and spoke about how Army values have been instrumental in JS Solutions' success in such a short time.
"Jason's experiences and lessons learned on multiple deployments in the global war on terror, Iraqi Freedom and Afghanistan has built the foundation for Jason's business ethics," he said. "And has fueled his passion for supporting soldiers with the best possible equipment training and policies, servant leadership, and deeply rooted Army core values has ensured that JS Solutions has a very bright future supporting our Army and always doing what's right for the client."
JS Solutions lists four core capabilities it follows:
to recruit, deploy, and manage special skill sets on and off government and commercial customer sites;
to analyze challenges, cultivate elucidation, and deliver effective outcomes;
to provide program management support for humancentric services under government contracts; and
to bring modern, innovative technology-based learning products and mission support consulting services.
Huntsville/Madison County Chamber President/CEO Chip Cherry congratulated Swafford for his service to the country and the sacrifices he made in that role.
"Growing up in company and a family of small business owners, I had the opportunity to experience the trials and tribulations of trying to figure out what you are going to do and what risks you are going to have to take, and the friction that occurs between 'I want to start a company' and 'I know, I need to go get a regular job'," said Cherry. "The spirit of doing that is an amazing thing.
"To you and your colleagues in building this company, for your service to our country, and your continued support of the men and women who serve in harm's way, it is just a blessing to us as a country and to you and your team."