HUNTSVILLE — If you remember the days before software helped type letters, pay bills, or even print solid objects, then you will recall how much more efficient it was to be able to correct a spelling error in real time. All that is needed is to simply click a couple of buttons rather than handwriting every transaction on a fine-lined green ledger, or smudging a white shirt when you made a "carbon" copy.
Today, thanks to a gener8tor startup, there is technology that automates the redundant manual processes written into the software, removing the human repetition completely.
Zaden Technologies is one of 11 start-ups in the gener8tor Huntsville Investment Accelerator cohort and has earned $100,000 in capital investment in the 12-week program.
Founder and CEO Valentine Nwachukwu has only been pushing the company's automation products, most specifically its Olympus product, out to market for about a year. However, the start-up company has hit about $3.2 million in contracts since April 2021, and this year has already netted $2.5 million in contracts.
"We've signed three contracts, two with Northrop Grumman and one with Boeing that is about $40 million over the next four years," said Nwachukwu. "I have been very involved in entrepreneurship here in Huntsville for several years and there are a lot of smart people here. Linking me up with the gener8tor people made me start thinking about Olympus as a product for the first time.
"We are already 600% year-over-year revenue, so I am not sure why I had not seen it that way before. I just wanted to grow the company slowly, but it has really opened my eyes."
Olympus focuses on automating redundant software processes and turning them into basic infrastructure for Department of Defense contractors. However, the company said the process can work for commercial businesses – especially the automotive and health care industry.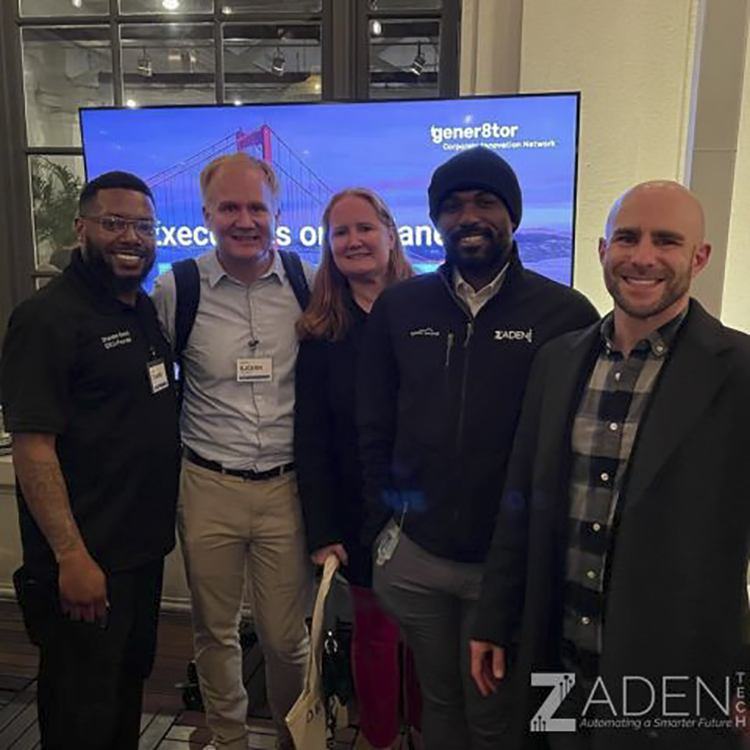 Olympus saves companies thousands of man hours and millions of dollars in endless, repetitive steps that don't add much value to the bottom line, Nwachukwu said.
"I use Facebook as an easy example of what Olympus does," he said. "Anytime a company develops new software or, in Facebook's case, they release a new feature, they will ask you to try it out, to test it. The first thing you do is pull up your website and run through a checklist of things that may be affected by the update. You start clicking through buttons to make sure everything still works.
"Olympus helps by having the software test itself. We write automation that will pretend to be human. It will crawl through your website and look for the buttons that need to be clicked and test them automatically."
Nwachukwu has been writing software since he was 12. He worked as a software engineer for Boeing and Amazon before moving over to Northrop Grumman where he led software teams.
He and business partners Jason West and Chief Technology Officer Alexander Monnet come from that same software development world. Together, they have more than 55 combined years of experience in dev-ops, automation, and building software stacks.
They met at Northrop Grumman where they needed something like Olympus.
"I got called in to manage a software team. Jason and Alex were already there, and we accepted a challenge to build a nine-month software package in about six weeks," Nwachukwu said. "How do we build something that quickly? You must go to automation to streamline the build process so a software team can jump quickly into product development.
"I built this day-to-day schedule with every hour and every second plotted out but the day I presented the schedule, all the servers in the Northrop Grumman building went down."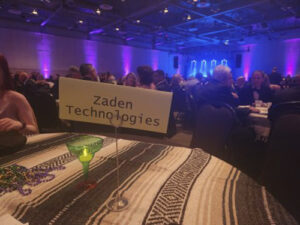 That, Nwachukwu said, was when the three of them decided to fix the issue.
"It is not a DoD problem; it is an enterprise problem," he said. "Anywhere you are building a lot of software, they have this issue. Everywhere the three of us had worked, even at Amazon, this had happened over and over.
"We built Olympus to put an automated infrastructure in place so that part of the process can be taken care of quickly."
To prove how much time and money Olympus can save a large enterprise, Lockheed Martin brought Zaden in to formulate an analysis for using Olympus versus building the software out by hand, which is how most companies do it right now, he said.
"Lockheed Martin has this $2.3 billion contract and they have about 300 software developers," Nwachukwu said. "Olympus took about an hour to install onto their system, and they said it immediately saved them 137,000 hours of not having to build out the software needed, and equating that into dollars, it came to about $300,000 million in savings.
"Using Olympus is significant. And we are probably one of the few start-ups that have people like Boeing, Northrop Grumman, and Lockheed as their partners."
He said Olympus provides the customer with a Chinese menu, that is it has a lot of items and a lot of combinations of items for the company to choose from. All these choices must be able to talk to each other and using the cloud, those tools also have to be operable and compatible with whatever cloud environment you are building.
Nwachukwu said Olympus works with any of the three cloud environments including AWS (Amazon), Microsoft Azure, and Google GCP. Their automation tools also work on-premises.
"All we need is a network, a bunch of IP addresses, and a bunch of machines and it doesn't matter whether it's in the cloud environment or in your home garage, it will work," he said.
"With Olympus, all you do is click through a bunch of buttons, follow the screen and tell it what tools you want, to what cloud environment do you want to deploy it, and tell it what type of networking security you want it to set up."
He said Olympus is an all-inclusive solution in which they also provide ongoing maintenance, and observability for vulnerabilities. If it finds one, Olympus pushes out a fix immediately.
"With Olympus, rather than hiring a full IT house, you have this one decentralized IT management tool not only watching the IT infrastructure but staying on top of security and compliance issues,too," Nwachukwu said.
He said Zaden Technologies is in talks with the Space Force about a program such as Olympus on their satellites.
"Our automation software is actually running as the satellite is rotating Earth," he said. "It would be enabling communication between the people building software on the ground that is able to push off that software to the satellites … making sure they are staying in sync, have high availability, resiliency, and redundancy in space just like here on the ground.
The company is fundraising through gener8tor for the second phase of Olympus.
"Right now, on larger contracts, we have to spend some time with customer to integrate it, so the second phase is focused on automating ourselves out of that integration," Nwachukwu said. "We are solving the problem of how much of a human capital footprint from Zaden, is helping the customer do that integration.
"… It is taking about six to 12 weeks to fully integrate a customer's environment. Our goal is six days or less."
Something else Zaden can do is provide redundancy and replicate across many entities using cloud-native technology, he said.
"Traditionally, every company and machine are different, but we add a layer to the infrastructure that says no one is different anymore," Nwachukwu said. "At the bottom of everything, you have ones and zeros. We have this product that understands ones and zeros across all companies, and across all technology environments."