HUNTSVILLE — In 2019, just prior to the pandemic with Huntsville growth skyrocketing, Mayor Tommy Battle said his vision of Huntsville and the surrounding counties had no boundaries, only corridors of growth.
He predicted private investment developers would also have that vision. Which, in kind, would ultimately attract investment from commercial real estate developers.
"The annexation of Limestone County where Mazda Toyota made a $2 billion land investment has seriously expanded our metro and opened an industrial growth corridor that is a win-win for both parties," he said.
Today, Triad Properties announced it and Birmingham-based Fairway Investments are closing on a 135-acre property on Greenbrier Parkway adjacent to Amazon, Vuteq, Polaris, Target, and the Mazda-Toyota manufacturing plant.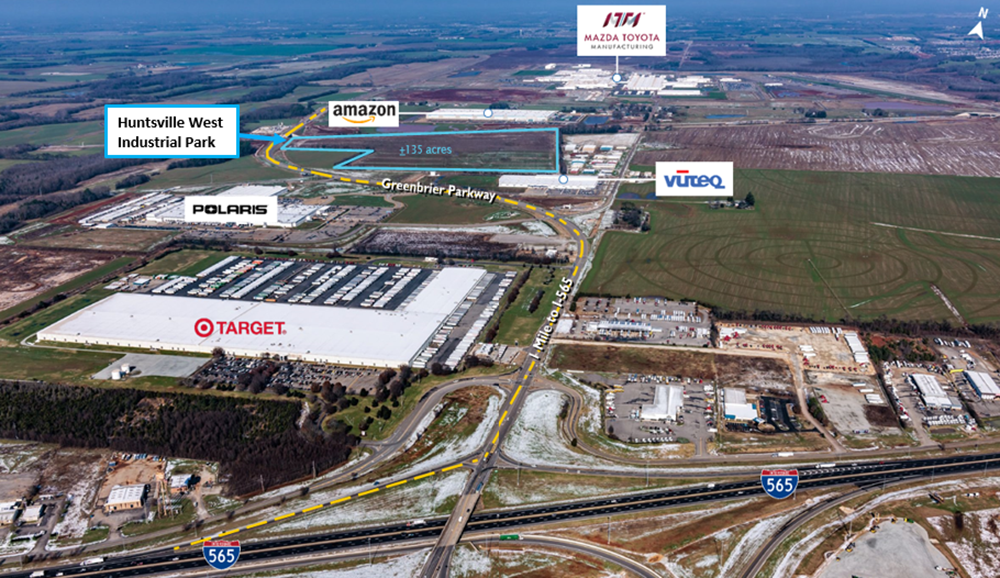 The Fairway-Triad joint venture is laying out a pre-development plan for a 2 million square foot distribution and commerce park called West Huntsville Industrial Park.
The Class A industrial park near I-65 and I-565 will offer distribution, warehouse, and logistics space on a speculative and build-to-suit basis. Building sizes will range from 250,000 to 400,000 square feet, with the site plan offering the capability to develop a 650,000 square-foot bulk distribution facility.
"Grading plans have been submitted to the City for permitting, and the civil engineering construction plans will be completed in the next three weeks," said Fuller McClendon, principal of Triad Properties. "Early this fall, we plan on starting the infrastructure work along with the construction of a 385,000 square-foot industrial-warehouse-distribution building.
"The facility will provide best in class specifications including 32-foot minimum clear height, 60-foot speed bays, ESFR sprinklers, with a 185-minimum truck court depth with abundant auto and trailer parking," McClendon said.
Fairway Development and Asset Manager Connor Somerville said the two companies have enjoyed working together on several joint ventures relating to office and industrial real estate – including four in Huntsville.
"We are wanting to grow our industrial platform and are optimistic on the outlook for Huntsville's continued growth," Somerville said. "The collaboration with Triad will allow both teams to expand their established track records by providing a best-in-class Industrial Park."
McClendon said Triad has developed more than 5 million square feet of industrial properties in Atlanta, Dallas, and Huntsville.
"We are especially enthused about starting our first building on this strategic Greenbrier Parkway site with Fairway," said McClendon.