The College Football Playoff Selection Committee released its final rankings of the season Sunday as conference championship games finalized hours earlier.
The final four teams who will vie for the 2022 title are No. 1 Georgia, No. 2 Michigan, No. 3 TCU, and No. 4 Ohio State.
Alabama, was considered a dark horse candidate to make the playoffs with losses to No. 6 Tennessee and No. 16 LSU. The Tide now has a New Year's Eve date with No. 11 Kansas State in the Sugar Bowl in New Orleans.
The weekend's conference championship games provided plenty of drama for Alabama fans. TCU lost to Kansas State in the Big 12 Championship Game in overtime, 31-28. No. 7 Utah dramatically came from behind to best No. 8 USC in the Pac 12 final.
Just because Alabama failed to win its conference – or division, for that matter – didn't mean it was eliminated from playoff consideration.
In 2017, Alabama ceded the SEC West to Auburn, but the Tide was selected for the playoffs and defeated Georgia in that season's national championship game.
In 2011, Alabama lost "The Game of The Century" and the division to LSU by a score of 9-6. The Tide won a rematch against the Tigers in the ensuing BCS title game, 21-0.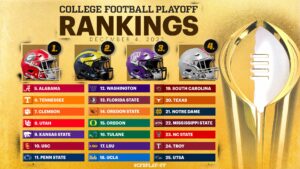 SHOULD I WATCH THE SUGAR BOWL?
Yes. Alabama needs it. The Tide doesn't have a great history in Sugar Bowls during the playoff era. It'd be understandable if Bryce Young, Will Anderson and others sat out the bowl game to avoid any NFL Draft-hindering performances or injuries.
Either way, it'll be fun to see Alabama play Kansas State. It won't be fun to see them lose, but that's probably how it's going to go. Listen to the Throw The Flag Sports podcast for more.
WHAT ABOUT AUBURN?
Auburn failed to win enough games to be bowl eligible, but made big moves to hire Hugh Freeze last month. Take a look at what we said about the news here: Freeze warning: Did Auburn make the right choice?.
WHAT ELSE?
The playoffs are going to be annoying for us in North Alabama. But this is what we asked for. Georgia faces a surprisingly tough contest against Ohio State, but it's one they certainly won't be looking past.
TCU and Michigan, which sounds like every Copper Bowl match-up ever, will serve as a clash of survivors. Aside from their records, there's no solid evidence either of these teams being good teams. But here we are.
TCU, also, is the first school from Texas to make the playoffs. Texas is a state, by the way, that includes the University of Texas.
What did we get wrong? Let us know on Twitter or Instagram. Listen to Throw the Flag wherever you get your podcasts.