HUNTSVILLE — Auburn has hired Hugh Freeze to lead its football program.
Who is Hugh Freeze? Who was Hugh Freeze? Are those two different people? Did Auburn just trade in a Cadillac for a Volkswagen Rabbit?
Let's get into it.
WHO IS HUGH FREEZE?
Hugh Freeze led the Liberty University Flames to a 34-15 record and three bowl victories over four years. This year, three of his losses were by a total of 5 points.
Freeze won at least eight games every year at Liberty. Auburn hasn't won more than eight games in a season since 2019.
Freeze has largely avoided controversy at Liberty. The largest headline he generated with the Flames was when he coached from a hospital bed in a surreal and hilarious loss to Syracuse.
WHO WAS HUGH FREEZE?
Oh boy. Here we go. Ole Miss didn't fire Freeze because of his on-the-field resume.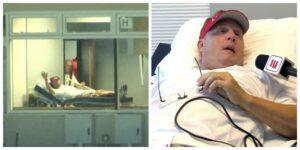 He beat Alabama in consecutive years, becoming the third coach at the time to accomplish that feat against Nick Saban. He pulled Mississippi into the Top 10. He brought in recruiting classes not seen in Oxford in decades, if ever.
On the other hand, he used a university-issued cell phone to call a Florida escort service. He brought massive NCAA investigations to Ole Miss, also not seen in decades.
He was also given heat for the Laremy Tunsil NFL Draft fiasco, but that's not really on Freeze.
After an avalanche of investigations, negative stories, and even a lawsuit from former coach Houston Nutt, Freeze resigned as Ole Miss head coach six weeks before the 2017 season.
Freeze's departure didn't stop bleeding, however. A week after his resignation, reports surfaced about alleged inappropriate behavior around female students during his stint at Briarcrest Christian School 25 years prior in Memphis. Freeze denies all reports.
People can change and new Auburn coach Hugh Freeze has likely learned some lessons just like anyone else.
But if he hasn't changed – how does that fit into the Auburn creed? And does that matter?
WAS THIS THE RIGHT CALL?
Hugh Freeze isn't the greatest hire in the history of college football, but it's a big get for Auburn. He's a proven winner and knew how to beat Alabama when the Tide was running roughshod over the entire league. Twice.
Freeze can recruit and develop players with the best of them. He got a quarterback from Liberty drafted into the NFL. And now with the new NIL system, the rules that got him kicked out of the SEC five years ago no longer exist.
We discussed three potential suitors for the position. Freeze has been a winner everywhere he's coached. His offenses are innovative and scary.
Hugh Freeze will likely buy into the Auburn Creed more than any other candidates athletic director John Cohen – or Auburn Twitter – considered. Seriously, can you picture Deion Sanders or Lane Kiffin totally buying into the "family"?
Bottom line? Auburn made the right move. Hugh Freeze isn't the splash hire every fan dreams of, but he has the potential to turn Auburn into an immediate winner.
Don't believe us? Go ask USC or TCU fans how they feel about their first-year head coaches.
What did we get wrong? Let us know on Twitter or Instagram. Listen to Throw the Flag wherever you get your podcasts.