HUNTSVILLE – There is no other cuisine in the United States as popular as Italian food, according to a recent report by the National Restaurant Association. In fact, 61 percent of diners surveyed said they eat Italian food at least once a month.
Benvenuto a delizioso!
To help satisfy that appetite, Amerigo, an upscale-casual neighborhood Italian restaurant, opens its doors Aug. 29  at the Market at Hays Farm.
Amerigo is part of Nashville-based 4Top Hospitality, a multi-concept restaurant group which opened Char restaurant in 2019 at Merchants Square here.
"We have received such a warm welcome from the Huntsville community for our first local restaurant, Char, that we immediately began looking for a location to open Amerigo," said Doug Hogrefe, partner, 4Top Hospitality. "Huntsville continues to grow and thrive, and it has proven to be the perfect city to expand our restaurant group.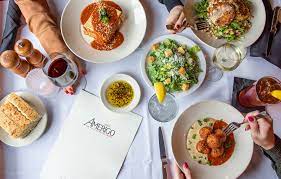 "We look forward to opening Amerigo at Hays Farm and providing a community spot to gather with family and friends."
Amerigo serves fresh meals in an atmosphere with white tablecloths. The 215-seat dining room includes a spacious bar, outdoor patio area, and private dining room for up to 60 guests.
A variety of pastas top the menu, including five-layer lasagna, smoked chicken ravioli, pasta carbonara, veal parmesan and chicken piccata.
Amerigo will also feature a modern spin on traditional Italian dishes such as hand-tossed pizzas, fresh seafood, Tuscan ribeye, and veal saltimbocca.
There are menus for lunch and dinner, weekend brunch and a $6 kid's menu, daily early bird specials from 4-6 p.m., and happy hour in the lounge Monday-Thursday.
More than 50 wines are available with a selection of signature cocktails and regional and imported beers.
Amerigo will also offer curbside pickup and family-style catering for offsite events.
Local partners Joe Still Building, Anusha Alapati with Crunkleton Commercial Real Estate, and Matheny Goldman provided construction, brokerage, and architecture and design services for the restaurant.
Amerigo's hours are 11 a.m to 10 p.m. Monday through Saturday and 10:30 a.m. to 9 p.m. Sundays.