ATHENS — It is said men go shopping to buy what they want … women go shopping to find out what they want.
Either way, downtown Athens will be open to all kinds of shoppers Saturday in its inaugural Boutique Crawl.
Tere Richardson, executive director of Athens Main Street, said she expects to see the streets "crawling" with bargain hunters having a lot of fun this weekend.
"We have had a huge response from retailers and with spring break coming on the heels of summer, shoppers will find all kinds of merchandise at discounted prices," she said. "Anyone making a minimum $20 purchase on Saturday from a participating retailer, will be entered into a chance to win a $500 gift certificate, thanks to Dream Key Real Estate."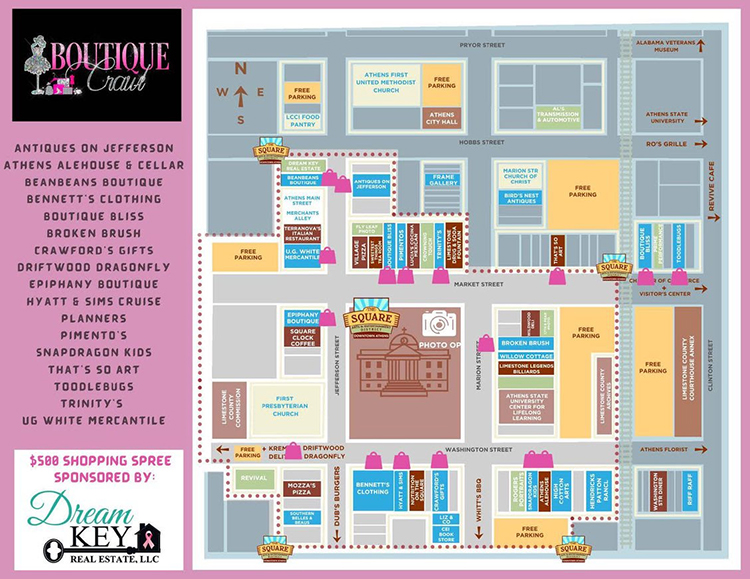 Boutique Crawl map (Athens Main Street contributed)
Downtown retailers will throw their doors wide open to men, women, teenagers, college students and children – whether you are looking for something specific or inspired by something you didn't know you wanted or needed.
Antiques on Jefferson's "Shop the Shamrocks" specials will be marked with shamrock tags
Athens Alehouse and Cellar is offering $6 wine slushies
BeanBeans Boutique is offering 20% off all jewelry in addition to door buster specials
Bennett's Clothing is offering an additional 10% off all sales merchandise in store, excluding tuxedo rentals and gift cards
Boutique Bliss is offering a chance to win a $100 Bliss gift card at each location and no purchase is necessary
Broken Brush Art Studio has art kits starting at $10 and already-made door hangers for $45
Crawford's Gifts will offer Early Bird specials from 9-11 a.m. They are giving away a free pair of earrings with a $100 purchase and invite shoppers to enter a drawing for an Earth Grace Bracelet
Driftwood Dragonfly is offering 10% off all loose teas and jewelry. Buy a hot or cold tea and get the second one-half off
Epiphany Boutique is offering 20% off storewide and a free cup of drip coffee with each purchase
Dana and Scott Henry of Hyatt & Sims Cruise Planners is holding a spa basket giveaway featuring items from Main Street merchants. They are also holding a tasting of their adult beverages
Pimentos is offering 15% off storewide and shoppers can register for $100, $75, $50 and $25 gift cards
Snapdragon Kids id giving away free bath bombs with a purchase
That's SO Art is offering 15% off storewide, excluding some all art
Toodlebugs Athens has 20% off storewide
Trinity's is giving way a free pair of sunglasses with a for purchase of $50, Saturday only during the Boutique Crawl event
UG White is giving 20% off all socks and U.G. white long sleeve shirts
Yard Card Queen has a photo opportunity on the northeast side of the Courthouse lawn