HUNTSVILLE – After a half decade of working and building relationships in Huntsville, Sinequa decided to lay down some roots in the Rocket City.
More than 50 representatives from Huntsville's newest company joined their partners with the University of Alabama in Huntsville, SAIC, Microsoft, and Left Right Mind and others at the grand opening of Sinequa's new office space in UAH's Invention to Innovation Center, known as I2C.
The ceremony began with a food and beverage reception on the ground floor and moved to the ribbon-cutting on the second floor of the I2C. The space is an opening footprint for the Paris-headquartered technology company in Huntsville, but they have been working here for several years.
"We have been working with leading organizations in the Huntsville area for over five years," said Bob Lewis, senior vice president of the new Aerospace & Federal Business Unit at Sinequa in Huntsville. "Huntsville is emerging as one of the fast-growing technology cities in the United States and is home to the second largest concentration of federal agencies and home to many of the nation's biggest names in aerospace and defense.
"We have a long-standing relationship with NASA as one of our premier customers, as well as Northrop Grumman in Huntsville."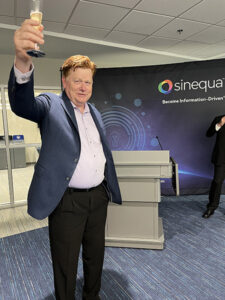 Lewis also said I2C is a hotbed of innovation and academic acumen and that played a huge role in Sinequa's real estate decision. The office is home to Sinequa's sales, business development and technical teams serving the aerospace and defense industry.
"This collaborative and entrepreneurial environment is ideal for our team," said Lewis.
The aerospace and defense unit launches the company's strategic initiatives to grow its customer footprint and expand partnerships, according to Laurent Fanichet, director of corporate communications.
"From a partnership perspective, SAIC is Sinequa's most active and strategic partner in the area, thanks to the NASA relationship, but our objective is to continue to recruit other dedicated aerospace and defense system integrators in the area," said Fanichet.
Sinequa is bringing in people in leadership roles who have been working with them during their five years in Huntsville.
Lewis joined Sinequa in the spring of 2021 as senior vice president of North American Operations and has relocated to Huntsville to head up the aerospace and defense unit.
"We are absolutely putting people from Huntsville in place because experience and boots on the ground are important to our expansion," said Lewis. "As we aim to provide our winning customer experience and expertise in the aerospace and defense industries.
"We are very excited to be part of the community and look forward to collaborating with innovators in the region to bring innovation and economic growth to the area."
Retired Marine Col. David Wallis is director of operations in Huntsville. He has 27 years of service with the Marines and leadership and IT experience from positions with Dynetics and AWS.
Sinequa plans to continue hiring and expand operations in the Southeast as it continues its expansion in North America.
"Sinequa's specialization is helping public and private agencies unleash the power of their data," said Lewis. "Our enterprise search technology uses artificial intelligence, natural language processing, and machine learning to help unify information and content within an organization, derive meaning from user interactions with that information, and improve search relevancy and performance.
"Employees within organizations like NASA, Airbus, Northrop Grumman, MBDA and other Global 2000 companies from across a range of industries, rely on Sinequa's Search Cloud Platform to find and share information within their organizations faster, and they uncover valuable insights from better use of that information."
CEO Alexandre Bilger said the local office is the first of its strategic growth initiatives.
"Sinequa's leadership team, expansion of resources and the new Huntsville office will allow us to deepen relationships with our existing customers such as NASA and Northrop Grumman, develop new partnerships and continue to collaborate with premier integrators like SAIC, while further advancing intelligent search technology to serve this critical market," Bilger said.