MADISON — During yet another historic groundbreaking for the city of Madison, BJ's Wholesale Club planted its first roots in Alabama.
The ceremony was at the retailer's construction site Thursday along I-565, adjacent to Duluth Trading Co. in Town Madison.
Members of the local high school drumline kicked off the ceremony as tractors hummed in the background, having already leveled the site in preparation for construction.
Town Madison developer Louis Breland; Michelle Epling, executive director of the Madison Chamber of Commerce who emceed the event; City Council President Ranae Bartlett; Sprocket from the Rocket City Trash Pandas; and Madison County Commissioner Steve Haraway formally welcomed members of BJ's executive team to Madison.
BJ's thanked them with a $10,000 donation to Bobby Bozeman, development director at the Food Bank of North Alabama in support of their food programs.
"We are committed to supporting our local communities and providing essential needs to families in need," said Emily McCann, head of Community Relations and Philanthropy. "BJ's is a national supporter of Feeding America.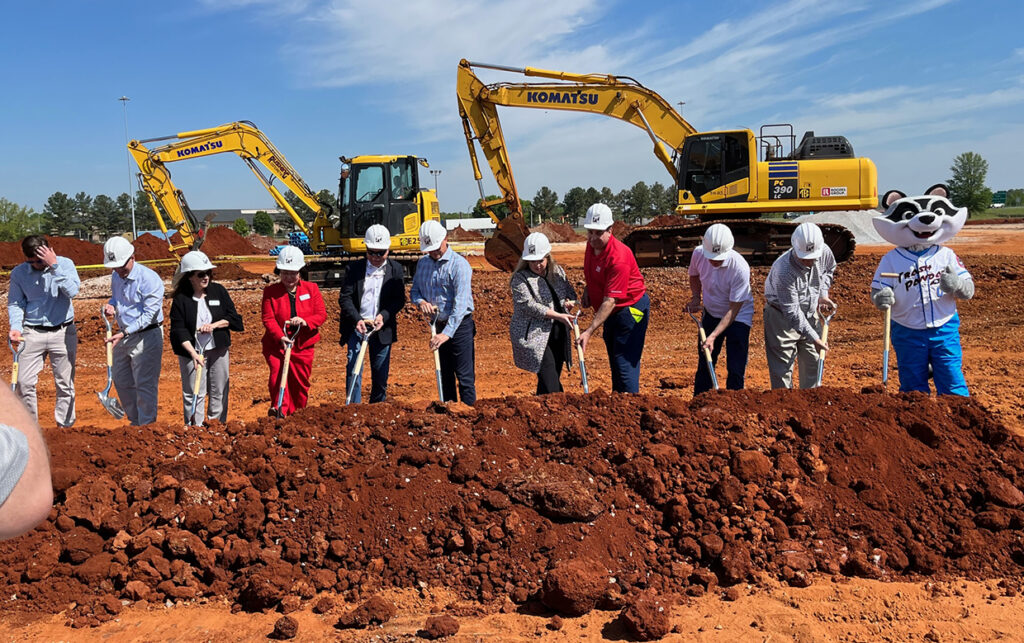 "With the growing threat of food insecurity across all our communities, the Food Bank of North Alabama are an incredible partner in providing food to people in need and we are thrilled to partner with them through BJ's Feeding Communities program," McCann said.
The program brings thousands of pounds of fresh food directly to families in communities where BJ's has stores.
"I have been in business almost 50 years and we deal with a lot of people," Breland said. "Dave and his team at BJ's have been nothing but first class, have done everything they said they were going to do.
"There have been a couple of bumps in the road, but a handshake means something to these guys so I can see and feel what is coming with BJ's … it's going to be a great ride."
Peter Frangie, vice president of communications, said although the store will not open until November, the local website is already live so the community can check them out.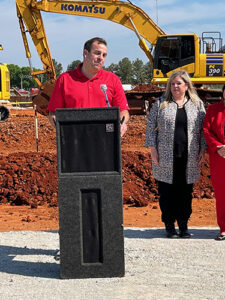 "If you sign up for membership before the club opens this fall, you'll get a $40 gift card already attached to your membership," he said. "It basically pays for your first-year membership so you can try us out for free for a year."
Dave Picot, senior vice president of real estate for BJ's, said they are expecting a quick and speedy construction with every intent of opening in November.
"BJ's offers incredible value – we are here to save families money," Picot said. "Our grocery prices are 25% less on the average, so we hope you all become members to take advantage of that."
He also said BJ's will sell gasoline.
"You will want to buy your gas at BJ's," he said. "We are highly competitive on price and if you are a member and have our credit card, you get an additional 10 cents off per gallon."
256 Today spoke with Ranae Bartlett about the City Council's work at bringing BJ's to Madison.
"There have been people working on BJ's and all of Town Madison for years to get it to this point," she said. "But I think all the things we're doing, and our investment in infrastructure to finish the I-565 interchange, is key to bringing in not only BJ's but a lot of other investment that will increase Madison's tax base, help our schools and help our residents."
Bartlett also spoke to the audience.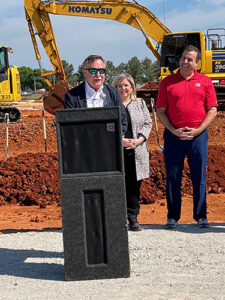 "To BJ's I want you to know you are entering the hottest market in North Alabama and a city that has the number one school system in the state," she said.
"That means a lot of families will be buying groceries from BJ's and they will become loyal supporters … Welcome to Madison!"
Haraway spoke on behalf of Commission Chairman Mac McCutcheon.
"We are honored BJ's has decided to come to North Alabama and we are excited about the opportunities for jobs you will provide to the people in the community, and for the revenue the city, county and schools will see," he said. "We were all a part of this idea a long time ago of what would become Town Madison. There were some who had great ideas but couldn't get it off the ground.
"This project is off the ground bigtime, and we have a baseball stadium, unbelievable restaurants, and now we are adding BJ's to the lineup – this is unbelievable."