TUSCUMBIA — Chapel Hart recently wowed audiences on "America's Got Talent," garnering a golden buzzer to the finals and a legion of fans.
This weekend, the country trio will take the stage at the Coldwater Jam at Spring Park in Tuscumbia.
PROJECTXYZ CEO Kim Lewis, a sponsor of the free event, said she and her husband have been longtime Chapel Hart fans and were thrilled to bring them to the Coldwater Jam stag.
"Larry and I had the honor to meet Chapel Hart a few years ago and were amazed of the talent of the group," said Lewis. "In 2021, when the city of Tuscumbia kicked off their annual event, we immediately asked Chapel Hart to be our headliner for the Coldwater Jam. We are so excited they will also headline this year."
Lewis recently shared this video on social media of the talented trio singing at Superhero Chefs last year. The superhero-themed restaurant is also a sponsor of the event.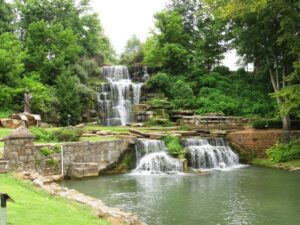 The Coldwater Jam is part of the annual H.C. Handy Festival that features events throughout the Shoals from July 21-31.
Organizers for the Coldwater Jam say bring your lawn chairs or blankets and plenty of water for this free concert taking place at the beautiful Spring Park. Established in 1919, Spring Park is home to Cold Water Falls, what is thought to be the largest man-made, natural stone waterfall. Approximately 4,320,000 gallons of water pass over the falls each day.
Lewis added there would be food trucks and vendors on site. The concert kicks off at 6 p.m. at Spring Park, just south of historic downtown Tuscumbia.
Coldwater Jam 2022
July 30
6-10 p.m.
Spring Park, Spring Park Road, Tuscumbia, AL 35674.