HUNTSVILLE — Alabama's only college football coach-turned United States senator pulled no gimmick plays Wednesday concerning the dangers America is facing.
U.S. Sen. Tommy Tuberville spoke of Huntsville's unique role in protecting the country against these threats during the Huntsville/Madison County Chamber's Washington Update.
Tuberville (R-Auburn) talked about his work on the Armed Services Committee; the Agriculture Committee; Health, Education, Labor, and Pensions committee; and the Veterans committee.
Tuberville arrived in Huntsville a day early and spent time Tuesday visiting with defense contractors on Redstone Arsenal and with Dr. Daniel Wims, president of Alabama A&M, who gave him an Alabama A&M tie that he "proudly" wore to the legislative luncheon.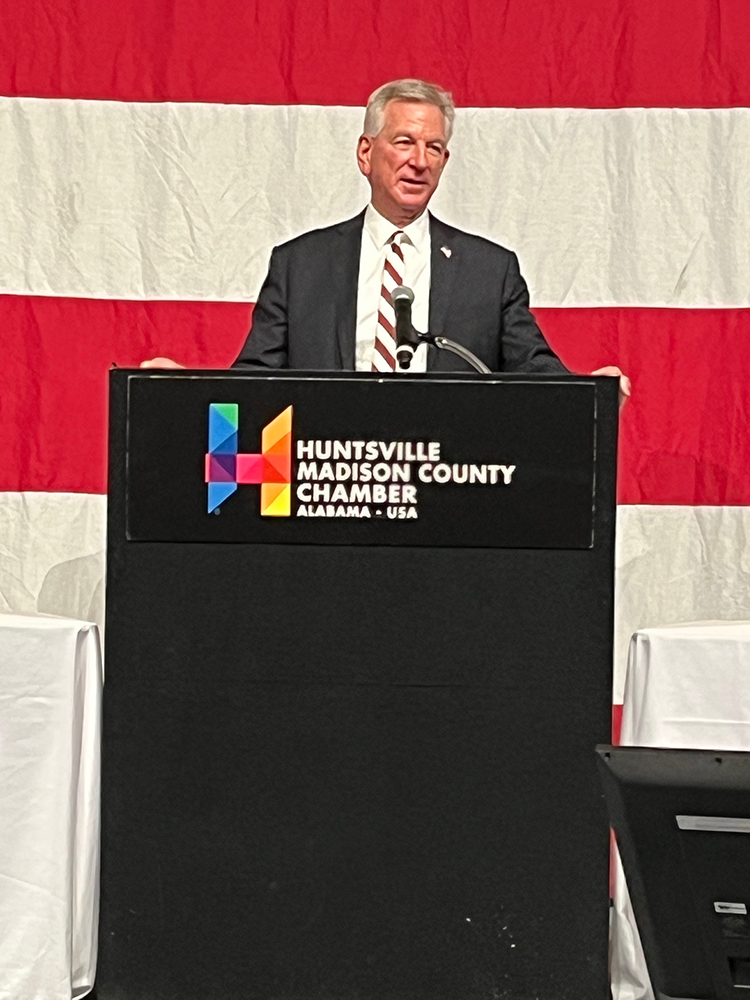 Tuberville also toured the National Children's Advocacy Center.
"We have way too much child abuse in this country and what you started here in Huntsville at the Children's Advocacy Center has now blossomed all over this country," he said. "We need institutions like that to help our kids. Kids are our future."
Tuberville kicked off his presentation admitting the division in the country is as acrimonious as the relationship between Auburn and Alabama fans. But, he said, at the end of the day, he finds many people want to sit down and talk civilly with each other.
"Sometimes conflicting views comingle and that is where we can come together and make this country better," Tuberville said.
He praised Sen. Katie Britt (R-Montgomery) in replacing Alabama's longtime Sen. Richard Shelby.
"Katie Britt and I are filling the very big shoes of a guy who was in Washington, D.C., for almost 50 years," he said. "Richard Shelby did a lot for the state, but Katie Britt is up to the task.
"She is outspoken, she believes in God, country and family, and I think those are the three biggest things we should consider."
National Security he said is on the front burner.
"I wish we weren't in Ukraine but I am for Ukraine in this conflict," he said. "I just don't know how we are going to get out of it.
"I don't know how Ukraine is going to get out of it."
Again, he used a football analogy.
"It's like a junior high school playing against a college football team," Tuberville said. "They don't have the numbers and they don't have the weapons, but they have the will to fight.
"Sooner or later, we must figure a way to work our way out of this," he said, acknowledging that between Huntsville's defense contractors, the Army Materiel Command and Redstone, Huntsville is playing a big role in the war.
He hopes to see a solution by spring.
His biggest concern, though, Tuberville said, is that from a national security standpoint, the U.S. is taking its eye off what's going on in China.
"National security is on the front burner for most of you in this room," he said. "I will be a part of that, too, so we need to keep our eye on the ball and understand what is getting ready to happen.
"We need to build our munitions back."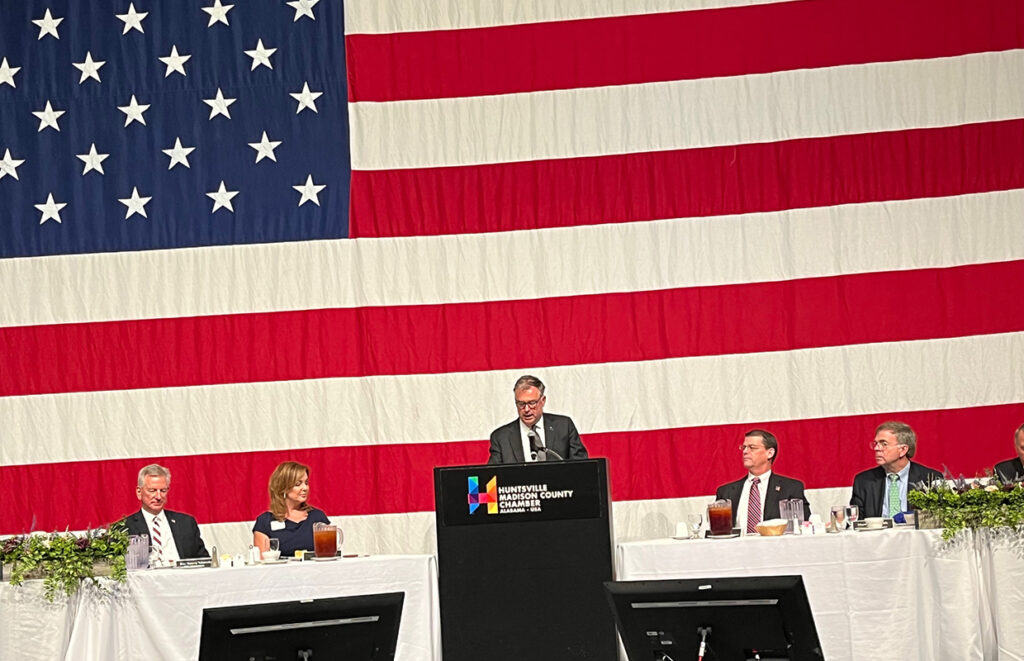 He was in Troy a few weeks ago where Lockheed Martin builds Javelin missiles that have been used effectively by the Ukraine military in the war.
"They admitted to being seven years behind in replenishing what we had just this time last year," Tuberville said. "Strength is how you stay out of wars, as Ronald Reagan said, 'Peace through strength.'
"We have to rebuild our strength."
Congress is about to consider a $1.7 trillion budget and, even though the number is mindboggling, he said the White House is not even spending 3% of our GDP on defense when it should be closer to the traditional 5%.
His position on the Agriculture Committee is historic with Alabama not having anyone represent the state agriculturally in 25 years.
National security, he said, is more than making weapons and missiles. It's also about agriculture and food to keep this country safe because if we don't, he said, a famine is coming.
"For some reason, this president wants to do away with fossil fuels but that is impossible," Tuberville said. "You can't do it. Instead, what they are doing is hurting our farmers.
Fertilizer has doubled in price, he said. Without fertilizer, we cannot grow enough food to feed ourselves much less others.
"Farmers are not making that money, they are losing money, so we must find ways to keep our family farms intact," Tuberville said.
The $1.2 trillion Farm Bill he said, goes for five years and will help farmers get back on their feet and increase crop insurance, their security blanket.
"If we lose our family farms, it will be devastating not only to us, but to the people we feed in other parts of the world," Tuberville said. "We will continue to try to talk some sense into this White House and make it feasible for farmers to make a living.
"Every farm that fails is slowly cutting our food supply."
Tuberville also discussed his position on the Committee on Health, Education, Labor, and Pensions working with Chairman Bernie Sanders.
"That's a thrill a minute," Tuberville said with a laugh. "But of all the people I've dealt with in D.C., Bernie is someone you can sit down with."
Tuberville said Sanders (I-Vt.) asked him, "Coach, what do you want to get done?"
"I answered that saving education in this country is my priority," Tuberville said. "He agree, as long as we worked together on lower consumer drug prices for him."
To build a football team he said, you must have the basics, the fundamentals.
"Folks, if we don't get our education straight in this country in a very near future, we will not have a country like the one we grew up in," he said. "If you can't read, you can't survive in the United States of America. We won't have to worry about a hypersonic missile or nuclear bombs because we will implode from within."
On another matter, Tuberville assured the audience he is fighting for Space Command every day.
"It should be here already, and it could happen tomorrow, but my good friend the Secretary of the Air Force asked me to stop asking and assured me he will tell me first when the decision is final," he said.
The senator saluted the audience and area for its role in the nation's defense.
"We live in a dangerous world, probably more dangerous right now than ever in my lifetime," Tuberville said. "We've got fires all over the world but thank goodness we have the strongest military and a great area like Huntsville and Madison County that keeps us protected every day with the work you do here.
"Thank you for doing what you do to keep us safe. We're going to need it. And to my friend Mayor Tommy Battle, start building those roads because you are going to need them!"