HUNTSVILLE — The idea that if you build it, people will come, is not exclusive to Iowa cornfields. It is also true of North Alabama cotton fields.
As Cummings Research Park celebrates 60 years, the second largest research park in the nation owes it all to the city's visionary spirit: the ability to see the big picture, to have a goal, to remain focused, to press through setbacks and disappointments, and to be a beacon of light for others to follow.
Milton Cummings had it. After losing his lower leg at a young age, he went on to be successful at tennis. He had to turn down a scholarship to college to support his family, but at the age of 25 he opened a cotton brokerage firm.
By the early 1960s, the man now known as the "honest broker" began investing his money and soon became a well-respected Huntsville businessman and civic leader.
But a funny thing happened on the way to a city council meeting.
Another Huntsville visionary named Wernher von Braun suggested a research park members of the booming space and defense industries could call home.
Cummings bought several hundred acres of farmland to the west of Huntsville in the shadow of Redstone Arsenal and NASA Marshall Space Flight Center. The action spurred the Huntsville City Council to designate 3,000 acres adjacent to the fledgling University of Alabama Huntsville Graduate Center as Huntsville Research Park.
Then in 1962, Cummings and Joseph Moquin purchased a 100-acre lot at the end of a dead-end road, now known as Sparkman Drive. Led by Cummings and Moquin, Brown Engineering became CRP's first tenant and a leader in the aerospace industry today.
Renamed in 1973 after Cummings' passing, one must ponder what would he think if he could see Cummings Research Park today with more than 300 companies, over 3,800 acres, more than 26,000 employees, 826 patents, 13,500 students and anchored by the University of Alabama in Huntsville.
It is difficult to find anyone today who was working in the park in 1962, but many companies weighed in on the 60th anniversary.
Northrop Grumman
Northrop Grumman's presence here has evolved into a powerhouse technology/defense/space contractor.
Bob McCaleb, Northrop Grumman corporate lead executive in Huntsville, said Northrop Grumman and its legacy companies have been making history in the Rocket City since the 1950s.
"We were among those who fueled Cummings Research Park's growth in the late 1960s and early 1970s," said Kenneth Kesner, a Northrop Grumman spokesman. "Like CRP, we are still growing, and now occupy multiple buildings in the park.
"In 2021, Northrop Grumman moved some work into a building on Wynn Drive that had been empty for years, sparking its renovation and supporting revitalization in CRP East.
"We're proud to be part of CRP's future as well as its past," Kesner added.
Lockheed Martin
"When I started at Lockheed Martin nearly 50 years ago, our Huntsville facility was sort of an outpost of the company's research labs in the Palo Alto area," said Dr. Shelby Kurzius, systems senior staff engineer for Lockheed Martin. "We were around 100 strong.
"Lockheed Martin has grown with Cummings Research Park over the decades. During those years, we've developed cutting edge technology to support the warfighter.
"Now, we have a much larger presence in Alabama, leading the Lockheed Martin charge on major Department of Defense priorities … including programs like Terminal High Altitude Area Defense, Next Generation Interceptor, Long Range Hypersonic Weapon, and Future Vertical Lift.
"It's been awesome to watch the growth here at Cummings Research Park, but I do sometimes miss the cotton fields in town and the leisurely traffic of the old days," Kurzius said.
According to Terry Abel, Marshall Space Flight Center technical liaison for Lockheed Martin, Lockheed Martin is the second-longest resident company in Cummings Research Park.
"Lockheed Martin broke ground in Huntsville in 1963 and made history with the first hit-to-kill missile intercept outside of the atmosphere in 1984," Abel said. "Local civil space work has included support as a prime contractor for the Space Shuttle program as well as current efforts designing and building the Orion crew capsule and Mars Ascent Vehicle Integrated System.
"Lockheed Martin has expanded in CRP over the years, having an early focus upon developing defense technologies to meet military needs but now more-so with the recent focus upon hypersonics."
Indeed, Lockheed Martin has seen a number of milestones along the way that have come about here in Huntsville.
In 1978, Lockheed Martin's Huntsville facility began supporting missile defense as the contractor for the Army's Homing Overlay Experiment.
Lockheed Martin expanded in 1996, adding a 170,000 square-foot building to accommodate growth on campus to include the THAAD program.
Lockheed Martin had a second major expansion in 2006 with the addition of a desk and board building supporting multiple programs.
In 2010, the company built the Huntsville Integrated Test Center, which is now the Hardware in the Loop Test Center for THAAD. A year later, Lockheed received a contract to produce the THAAD Weapon System for the Missile Defense Agency and the United Arab Emirates – the first foreign military sale of the THAAD Weapon System.
More recently, in 2021, another Lockheed Martin company, Sikorsky, evolved its presence in CRP to support the FVL, Army Black Hawk helicopters and other military aviation programs; and Lockheed Martin was awarded a NGI contract.
Two milestone events occurred this year – the company broke ground on its Missile System Integration Lab in support of the development, testing, and integration for the NGI program; and it was awarded the contract for the MAVIS, enabling the first rocket to launch from Mars and return to Earth with samples.
Adtran
"We at Adtran congratulate all at Cummings Research Park for 60 years of inspiring innovation and economic development for the city of Huntsville and beyond," said Kurt Raaflaub, head of Public Relations at Adtran. "We've been proud to call CRP our home since 1989 and we look forward to continuing the success with the park for many more years to come."
Radiance Technologies
One of Huntsville's home-grown engineering companies, Radiance Technologies was established in Huntsville in 1999. The company, though, was outside the park until completing a facility in April 2004.
"That facility stood as our headquarters until we moved into our current headquarters at 310 Bob Heath Drive in January of 2020," said Penn Garvich, Director, Marketing Communications & Brand Engagement. "We felt the proximity to our customers on Redstone Arsenal and the continued growth of the company is why we originally moved into Research Park and why we are expanding our current footprint."
Proof of their commitment came in October when Radiance broke ground on Phase II of their campus, the second of four planned phases.
"Radiance is excited to continue being a part of the amazing Research Park community," said Tim Tinsley, president of Radiance. "We look forward to continuing to support our customers and the Huntsville community for years to come."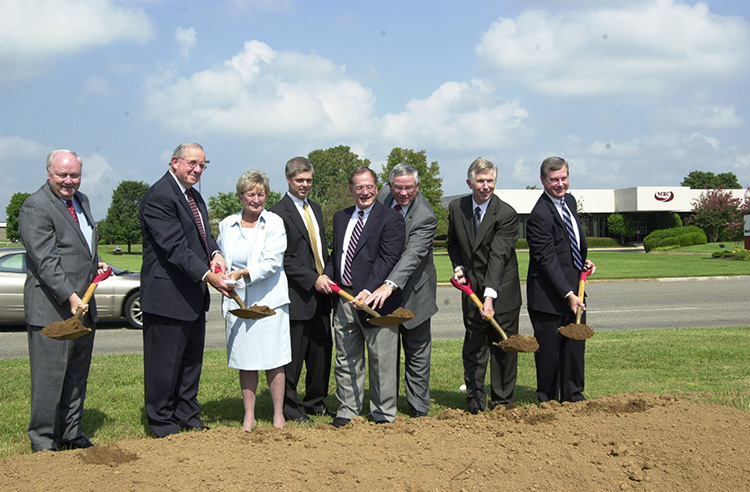 Aerojet Rocketdyne
"Huntsville was a clear choice for our company's defense headquarters for many reasons, from the proximity to our government and industry customers – both in defense and space – to the collaborative relationship with state and local officials and the quality of life our employees enjoy here," said a spokesperson for Aerojet Rocketdyne. "We continue to be pleased with the decision to expand our workforce in the Rocket City."
Aerojet Rocketdyne has expanded its workforce in Huntsville by more than 700% since 2016.
Tyler Evans, senior vice president of Aerojet Rocketdyne's Defense Business Unit said their company has sixty years of fostering innovation in industry, an emphasis on collaboration and a can-do spirit.
"Cummings Research Park exemplifies the best of Huntsville," he said. "We're proud to be a part of the CRP and Huntsville family."
Blue Origin
Blue Origin is one of the newest companies to take up residence in CRP.
In February 2020, weeks before the COVID pandemic became a household name, Blue Origin opened its rocket engine production facility in CRP bringing 300 jobs and an investment of more than $200 million.
The company builds its BE-4 and BE-3U engines here, and tests them at the Marshall Space Flight Center using the historic Test Stand 4670.
Blue Origin's BE-7 lunar landing engine was also tested there.
"At the core of every successful launch vehicle program are the engines that power those vehicles to space," said Bob Smith, CEO of Blue Origin. "Early on in Blue Origin's history, we made a crucial decision to invest in developing the next generation of reusable rocket engines. And now, it's an exciting time for Blue, our partners and this country – we are on the path to deliver on our promise to end the reliance on Russian made engines – and it's all happening right here, right now, in the great state of Alabama.
"We couldn't be prouder to call this our home for engine production."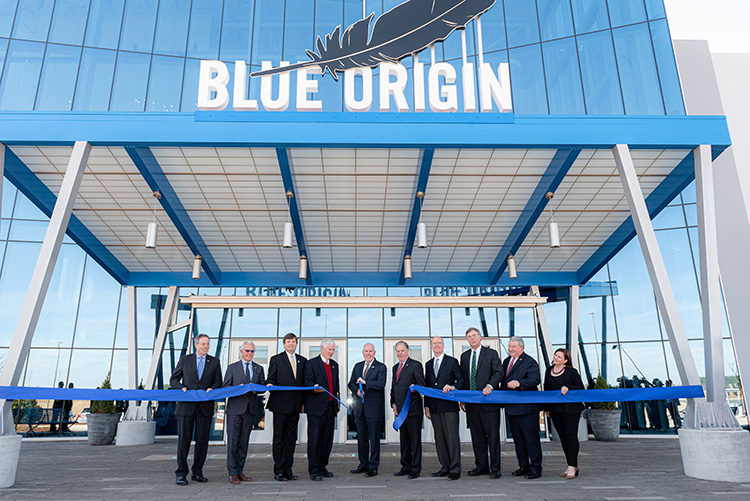 Erin Koshut, CRP's executive director said the park has an opportunity to continue to deliver a successful future for CRP, and in doing so, foster a stronger culture of innovation and collaboration for decades to come.
"We will only accomplish this together, and with thoughtful and strategic investments that make the Park the place to be for progressive innovative technological companies and institutions," she said.