TUSCALOOSA — The University of Alabama System Board of Trustees has elected Jeff Gronberg to represent the Fifth Congressional District.
Gronberg is CEO of deciBel Research in Huntsville.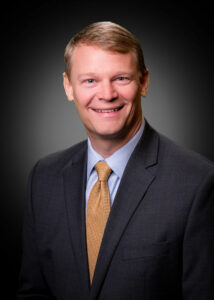 "The University of Alabama System is a precious jewel in our state, especially when you consider its abiding commitment to excellence and its far-reaching impact on education, research, health care, workforce and economic development, and beyond," said Gronberg. "I am honored to serve on the Board of Trustees and look forward to working with my esteemed colleagues on the Board, Chancellor St. John, and leaders across the UA System."
Gronberg succeeds Trustee Emeritus William "Britt" Sexton.
Gronberg received his bachelor's in aerospace engineering from Alabama, where he also attended graduate school. He and his wife, Amy, are Huntsville natives and their children attended the University of Alabama in Huntsville. Gronberg has served on the UAH Foundation Board for several years.
 "Jeff Gronberg's strong ties to the University of Alabama System coupled with his proven track record of exemplary leadership make him an ideal representative to serve on the UA System Board of Trustees," said Karen Brooks, chair of the board's nominating committee.
"Jeff Gronberg possesses strong leadership acumen, as proven by the impressive credentials, awards, and accolades already accumulated in his professional career, and a resolute dedication to the University of Alabama System," said Board of Trustees President Pro Tempore W. Stancil Starnes. "I look forward to working with this experienced and highly respected business and civic leader and know the UA System will benefit from his service."
As immediate past chair of the Huntsville/Madison County Chamber of Commerce,  Gronberg contributed to efforts that led to Huntsville's recent selection as "the best place to live in the United States" by U.S. News & World Report.
Gronberg serves on the Huntsville Hospital Foundation Board, Huntsville Committee of 100 Board of Directors, and Redstone Regional Alliance. He is past president of the Tennessee Valley Chapter of the National Defense Industrial Association and is active with the ALS Association, MS Society and American Heart Association. He is the former board chair of the Heart of the Valley YMCA.
The board of trustees is comprised of 15 elected members representing Alabama's congressional districts on a volunteer basis; the governor is an ex-officio member of the board. Gronberg's election will be submitted to the Alabama State Senate for confirmation.