HUNTSVILLE – McThornmor Acres, named by combining five men who incorporated the neighborhood that at the time became Huntsville's largest subdivision in west Huntsville, was added to the U.S. Park Service's National Register of Historic Places in early 2022.
Mayor Tommy Battle and other city representatives and residents gathered Sunday at the neighborhood's entrance to celebrate a historical marker that tells the story of the area near the UAH campus at the corner of Woodall Lane and Holmes Avenue.
McThornmor Acres Historic District sits on land that was once a peach orchard. It was incorporated by Vance J. Thornton, S. O. McDonald, James D. Thornton, Carl A. Morring Jr., and Allen M. Northington. The neighborhood was platted in 1956 and completed in 1969.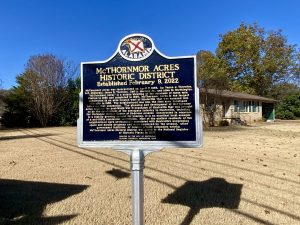 "McThornmor Acres is Alabama's first historic district to be listed to the National Register of Historic Places directly linked to the Space Race," said Katie Stamps, Huntsville's Preservation Planner. "Its connection to that era has local, state and national significance and we are thrilled to celebrate this honor with past and present residents of the district."
The neighborhood rose out of housing needs as Redstone Arsenal expanded and aerospace and missile engineers began arriving to work on various programs.
For the second time this month, Battle helped dedicate a neighborhood historical marker. Earlier, it was Edmonton Heights near the campus of Alabama A&M.
"No matter how much we grow in the future, and no matter how many more new homes are built, we'll know our established neighborhoods are the ones that set a standard for quality of life," Battle said. "McThornmor Acres' place on the federal registry recognizes the integrity of the neighborhood, and the value of a quality of life enjoyed by so many. That's something worth celebrating."
Bill Kling, who represents District 4 on the city council, said not only do older neighborhoods recall another era, they also continue to thrive.
"Homes in established neighborhoods are popular with young families because they are well-built and they have yards where children can play," Kling said. "They also have walkable sidewalks and, best of all, engaged neighbors who have pride in their community."
According to a city news release, Donna Castellano, executive director of the Huntsville Historic Foundation, met in 2016 with McThornmor Acres resident Diane Walls and former Preservation Planner Jessica White to discuss listing the neighborhood to the NRHP. At that time, no other mid-century neighborhoods had been considered for historical significance. 
The collaborative effort opened the door to the survey of eight other mid-century neighborhoods, including Edmonton Heights, Blossomwood, Medical District, Mayfair, Magnolia Terrace, Terry Heights and Whitesburg Estates.
The called the homes representative architecture of the mid-1950s, including post-war and split-level ranches and mid-century contemporary structures.