HUNTSVILLE — It has been nearly three years in the making but, finally, ground has been broken for a Hotel Indigo in Huntsville.
Chattanooga-based ViaNova Development and Kentucky-based Buffalo Construction are building the hotel – the state's only Hotel Indigo – on Stax Street in MidCity.
According to ViaNova co-founder Neil Kapadia, they were set to break ground on the 112-room boutique hotel in March 2020 when the pandemic struck.
"The important thing to know is that we had planned for this Hotel Indigo to be our crown jewel of projects," Kapadia said. "We were really committed to this project and to Huntsville.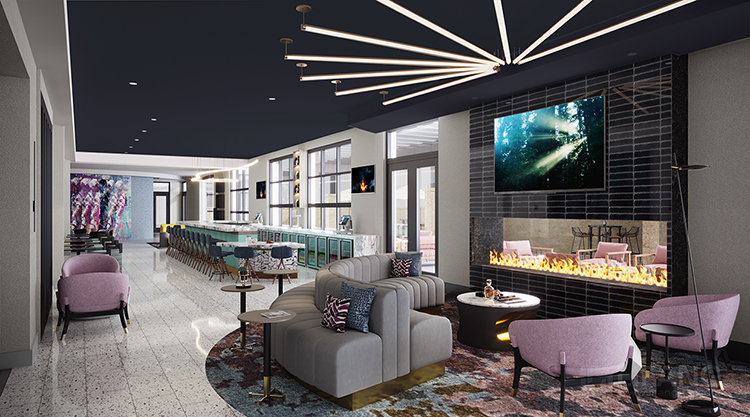 "When COVID happened, the banks stopped lending, people started working remotely, so we put it on ice for what we thought would be a year, but when we looked at breaking ground last year, the global supply chain was falling apart and costs went crazy," he said. "So as small developers, we had to raise quite a bit more capital.
"So, it has been a painful three years."
Even today, with the supply chain improving and costs coming down, Kapadia said their original investment of $17 million is now $22 million.
"But we're still alive, we still have a good attitude about it and we still think the project is going to be awesome," he said. "We were determined to do this project, despite some people advising us to give it up, and we used the time to raise the additional money.
"Now that we are here, I don't see it so much as having been slow developing as much as it has been steadily developing."
Hotel Indigo is not a formula hotel. Instead, the 112-room boutique hotel will have a local flair that makes it unique to Huntsville's heritage.
"We like to match every property thematically to the neighborhoods where they are, so no one Hotel Indigo will be just like another, regardless of where it is located," Kapadia said. "My partner Vic and I grew up in the hotel/motel industry. We know what it is like to walk into a hotel room and be immediately annoyed by little things.
"Hotel Indigo will have a lot of subtle little flourishes throughout that capture a feel for what has transpired here in Huntsville. But it will not be obvious stuff, instead, MidCity has the University of Alabama-Huntsville, the legacy of space and a new, but booming music industry, so the style will be two or three layers deep."
He said it will not be an overt homage to space exploration and space travel, but will interweave style, surroundings and heritage with design elements, and then refine it to the user experience.
Some examples can be found in the renderings.
The lobby styling mimics the backend of NASA's Delta rocket and booster nozzles.
The king guest rooms have rugs with space travel related physics calculations that come from old pictures from JPL.
One of the wall art pieces in the entryway feels somewhat like a black hole, and the hanging lamps are all orbs.
"Hotel Indigo guests will always know they are getting a uniquely curated experience," said Kapadia.
Another element is the full-service restaurant, inside and outdoor dining, and events such as whiskey tastings and opportunities to educate people on wine tastings and pairings.
Even the food and beverage menus are designed to switch to a food truck quick service style when there are concerts at the Orion so people can get served very quickly before and after a concert.
It also has a secret entrance for artists who stay at the Hotel Indigo, so they do not have to exit through the front door.
"We take a lot of pride in partnering with, and getting to know other local businesses," Kapadia said. "You can expect us to be very engaged in the community because we want to become part of the local fabric that makes up MidCity."
Hotel Indigo is expected to open during first quarter 2024.