HUNTSVILLE — No one knows space better than Huntsville and its citizens know when stars align to form a distinct pattern, they are looking at a faraway constellation.
What is currently aligning at the Heart of Huntsville is a $180 million multiphase, multi-use development called Constellation.
And with this week's grand opening of the Constellation Apartments, we are now in the waxing gibbous stage between the development's first phase and the full monty – hotels, office space, retail, and even a shared parking deck.
It will soon come together to shine a bright light on what has been called the "front door" to downtown Huntsville.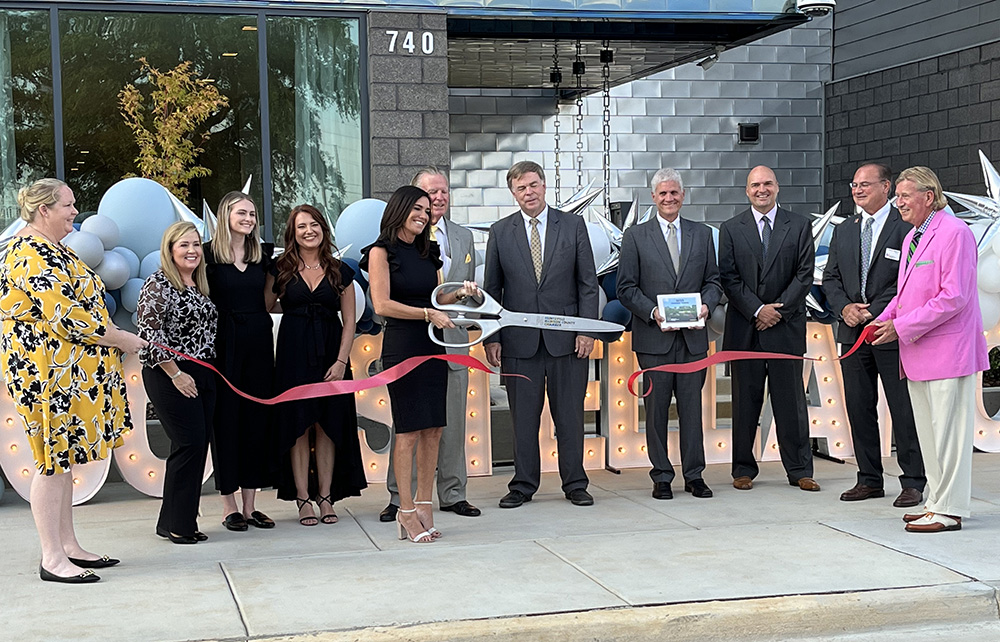 Developed by Coldwell Banker Commercial McLain Real Estate with Equibase Capital Group of Chicago, the Constellation Apartments opened Monday with a visit from Huntsville Mayor Tommy Battle, a formal ribbon-cutting and tours of the luxury midrise complex.
"It's amazing when you are in a town that has three ribbon-cuttings and a groundbreaking all in one day like we did today," said Battle. "Last week, we had over eight of them and this is due to growth.
"When we look at growth, we have to look at new products, and Constellation is a new rental product with its inner balconies overlooking the pool and green spaces and a 24-hour wellness center.
"It is a new wave that is coming into Huntsville and it's great to see it coming because its attracting innovative builders and real estate developers, so thank you to everyone involved."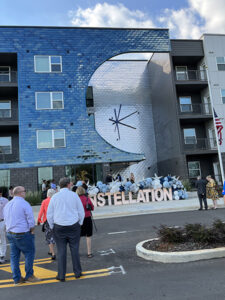 Located just a block off Clinton Avenue facing Memorial Parkway, Constellation Apartments offer studio, one-, two- and three-bedroom floor plans in what is being called Huntsville's new urban core.
Within walking distance of city center, the Von Broun Center, Big Spring Park and area hotels, Constellation features contemporary amenities. The apartments are fitted with hardwood floors, granite countertops, balconies, and stainless-steel appliances.
The complex has a 24-hour wellness center, a resort-style heated pool and tanning ledge, expansive rooftop, a pet spa, electric vehicle charging and an inner courtyard where residents can gather for a barbecue or a game of cornhole.
During the ribbon-cutting, Equabase's managing partner, Timothy Grogan talked about how excited they were to be opening the rental component of the overall Constellation development, but the rest, he said, is yet to come.
"Constellation has been leasing for two months and we are already at 35% occupancy and that is due to the best leasing team in America," he said, giving a nod to the team who was on hand for the ribbon-cutting.
"We have been in Huntsville along time, and we own a lot of real estate in North Alabama, so we are not just coming in and building this building and leaving," Grogan said. "This is only phase one of Constellation. We are working on the second of three phases, which is a retail component, and that announcement should be coming soon."
The overall Constellation project will feature nearly 1.5 million square feet of mixed-use offerings. In addition to the apartment component, the final project will include hotels, retail, office, and parking decks.
Scott McLain of McLain Commercial Real Estate has spent years pulling the Constellation development together. He said although Constellation has been called "long in the tooth" because of its scope and many years of pre-development, the tempo of the project recently accelerated dramatically.
"The change that has brought the stars into alignment at Constellation is the partnership with Equibase Capital Group of Chicago," McLain said. "As co-developer with Equibase, I can easily say that there may not be a finer partnership for a mixed-use development."