HUNTSVILLE — Despite national high-interest rates, inventory is still on the incline in North Alabama, according to the latest report from the Huntsville Area Association of Realtors and ValleyMLS.com.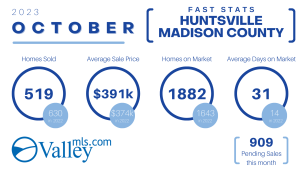 The data signify more diverse properties available for buyers and sellers, the association said. Meanwhile, the National Association of Realtors chief economist was confident that mortgage rates will dip below 7% in the second quarter of next year.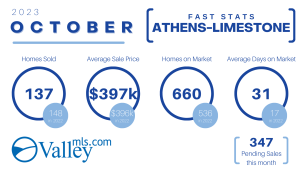 "This week, the National Association of Realtors again reported confidence in mortgage rates dipping into 6% and lower by next year's second quarter," said HAAR President Chris Hulser-Hoover. "That relief, coupled with the usual forces of weather and the school calendar could lead to another busy market in north Alabama next year."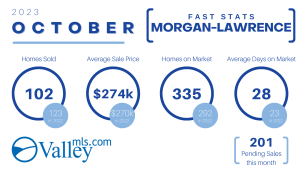 NAR Economist Lawrence Yun cited reports of inflation calming for his forecast.
"Mortgage rates are plunging with the news of inflation calming," Yun said. "The interest rate rises should be over, and the Fed will have to consider cutting interest rates seriously. In the meantime, the bond market is reacting as if the Fed will be cutting interest rates next year.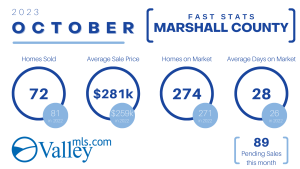 "Mortgage rates look to head toward 7% in a few months and into the 6% range by the spring of 2024."
Across the nine-county ValleyMLS.com market, 997 homes were sold last month, compared to 1,164 last October. But the average sale price was the same at $339,000. The data also show more homes were on the market compared to a year ago (3,731 vs. 3,357 in 2002)  and they were on the market longer (33 days last month vs. 22 days in October 2022).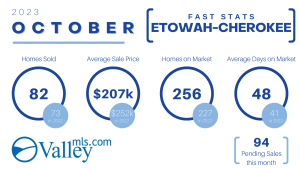 The Etowah-Cherokee County and the Jackson County markets were the only two that saw home sales increase from last year. In Etowah-Cherokee, 82 homes were sold last month compared to a year ago. Jackson County saw 33 homes sold in October, compared to 25 in 2022.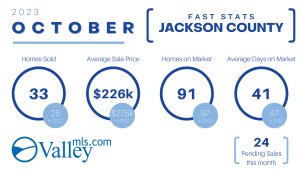 Outside North Alabama, sales of existing homes recently fell to a 13-year low, dropping 2.0% month-over-month and 15.4% year-over-year as of the last measure, according to the NAR, as surging interest rates and elevated sales prices continue to make homeownership unaffordable for many prospective buyers.
Purchase activity is down significantly compared to last year, but rising interest rates also keep many current homeowners from selling, causing inventory to remain at historically low levels nationwide.
"Regardless of market forces, we are blessed to live in a region with so many dedicated Realtors and other professionals who make the market work for North Alabamians," Hulser-Hoover said.