MADISON — The Kendall family is hedging their bets that after eight years as a landscaping and design firm working out of their home, their new location in a refurbished house along Short Street in historic downtown Madison will provide the space they need to continue the company's growth.
The Madison Chamber of Commerce hosted a ribbon-cutting Tuesday to celebrate Jake and  Valerie Kendall and their son Benjamin's move. The Kendall Outdoors office is between The Avenue Madison on Shorter Street and the Shoppes of Historic Downtown Madison on Main Street,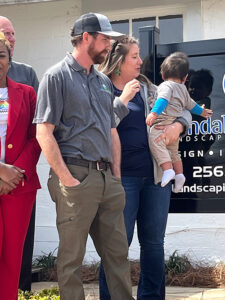 "We actually started our business eight years ago, so to be having a grand opening in our new space is very special to us," said Valerie Kendall, holding a wiggling baby Benjamin in her arms. "We hope to see more of you in the community while we continue to keep Madison beautiful."
Madison Mayor Paul Finley congratulated the young couple and welcomed them to downtown Madison.
"As someone who has gone through the winter and has two or three shrubs that just do not seem like they are going to make it – there are a lot of people who are going to need you guys, so you are a big, big win for the City of Madison," he said.
"The City Council has invested a lot of money to restore historic downtown and you are just one more business that will make a difference in our community by being here, so we appreciate your investment and we wish you nothing but the best success."
Jake Kendall said exceptional growth over the past couple of years and the birth of Benjamin less than a year ago, led to their need for more workspace and an office away from home.
"We are full service commercial and residential landscapers with a maintenance department and a landscape design and installation department as well," Kendall said. "If you do quality work, you stand out for customers and I think that has led to our growth."