HUNTSVILLE – More than 2,000 first-graders from Madison County schools were admitted to the "hospital" last week, courtesy of Huntsville Hospital and the University of Alabama in Huntsville's College of Nursing.
But not to worry! They were accompanied by Miss Molly the teaching puppet.
These "patients" were visiting a virtual hospital as part of Let's Pretend Hospital, a joint community service effort between the Huntsville Hospital Department of Volunteer Services and UAH's College of Nursing.
Now in its 34th year, Let's Pretend Hospital has grown into a five-day event by the nursing senior class as a management-leadership activity and for all nursing students as a service-learning project.
Let's Pretend Hospital is designed to allay the fear and anxiety associated with hospitalization by simulating a real hospital stay. Children learn what to expect during a hospital visit while they are given important information about how they can keep their body healthy and safe.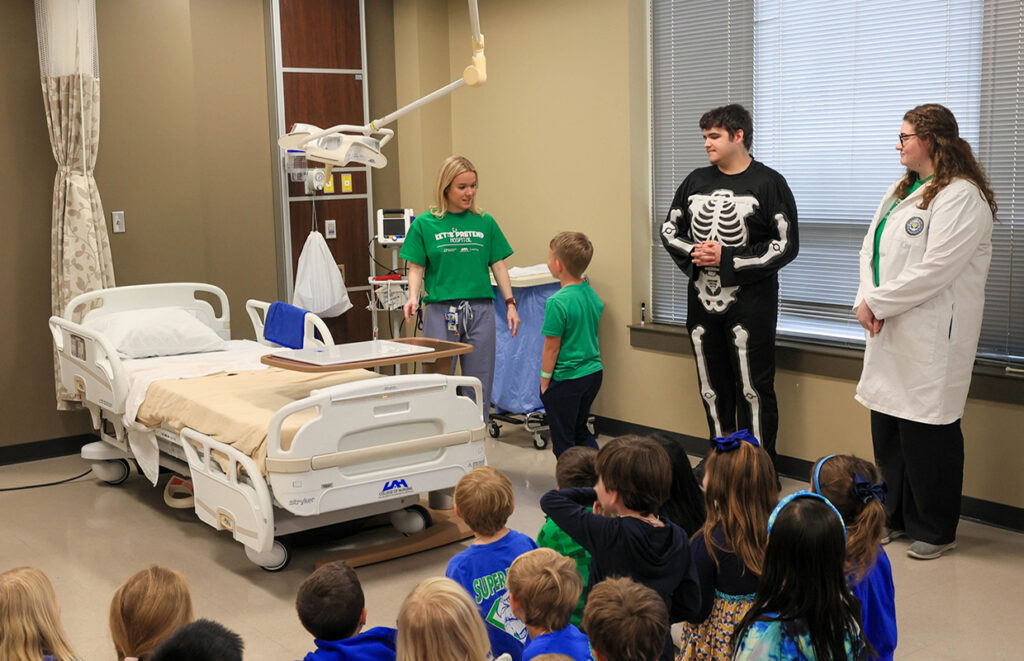 According to Bright Horizons, "pretending" is one of the leading methods of teaching preschool and kindergarten children because children get to learn about themselves and their relationship to the world around them. It is also one of the first ways children learn their own likes and dislikes, their interests, and their abilities.
Therefore, the project gives UAH senior nursing students an opportunity to teach children about nursing and health care. With both teachers and nursing school students participating, there is always the hope of attracting future doctors and nurses to the field.
As many as eight classes at a time moved through the virtual hospital at any given time, set up on the UAH campus by College of Nursing faculty and students.
Senior nursing students performed skits as doctors, nurses and technicians to demonstrate the different people the children might see during a hospital stay.
The tour ended with a visit to the HEMSI and Kid's Care ambulances.
Each child received a surgeon's cap and booties, pencil, coloring book and crayons, as well as educational material for parents to help reinforce what their child learned at the event.