HUNTSVILLE — MidCity District has established itself as one of Huntsville's hottest regional spots for entertainment with grand musical events, weekend festivals, outdoor markets, restaurants and pubs, sports, and a diverse set of retailers.
Now, you can add something else to the mix – residents!
The $18 million luxury Metronome, at the intersection of MidCity Drive and Stax Street, is the first of four residential venues opening over the next few months. The others are Anthem House, Encore, and Wellory Living.
Although still in the final phases of construction, the five-story, 296-unit multifamily Metronome recently held an open house and formal ribbon-cutting ceremony.
The complex is open to leasing and has already welcomed its first tenants.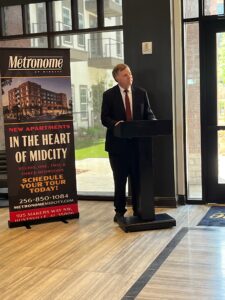 "We are celebrating a great milestone today," said Nadia Naikossary, senior director of development at RCP Companies, the developers of MidCity District. "We are excited to be opening our doors to new residents in the District.
"We have people coming to MidCity from all over to attend the events and festivals our awesome team puts on, and now we have tenants able to live here in the District, support all the businesses, and create some awesome foot traffic for the whole community."
MidCity's first multi-use residential component features shops, boutique services, fitness, and restaurants lining the main road at ground level.
Metronome offers studio, one-, two-, and three-bedroom apartment homes. There are 12 floor plans, featuring very contemporary living including smart thermostats, high-speed internet, security-dedicated WiFi, stainless steel appliances, quartz countertops and a full-size, in-home laundry.
Some units also include high ceilings, a balcony, an office/den space and a kitchen island.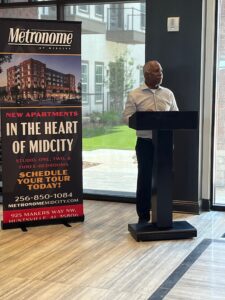 Mayor Tommy Battle joined Huntsville City Council President John Meredith to welcome the tenants and to celebrate its opening.
"This is an exciting thing to be happening in Huntsville," Battle said. "We are seeing 4,500 to 5,000 new people moving to Huntsville per year and we need somewhere for those people to live.
"The Metronome is the perfect what we call urban development atmosphere, where people can live here, work here and play here and it is just what Huntsville needs.
"Our day-to-day goal is every day to make our community just a little bit better, and every day that we end up with a great community like this one, we will continue to remain the number one and number two ranked Best Cities in the U.S. in which to live."
Meredith, who represents MidCity in District 5, said it is always hard to follow the mayor when it comes to speeches but then he brought laughter to the crowd with his own take on the new development.
"This is a great opportunity to have folks to come and actually live in MidCity," he said. "Looking around, I just wish there was room here for me. Maybe when they finish the fifth floor, they can find a spot for me!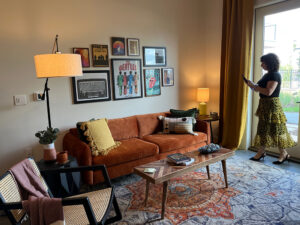 "RCP Companies has done a great job developing MidCity and we could not be happier with the partnership Council has with them and the city, so thank you all."
Richard Bigoney, membership representative from the Huntsville-Madison Chamber, said at the Chamber, recruiting businesses and people to the area is one of their biggest challenges.
"This makes it easy, like the crowning of MidCity. We are very excited about you guys reaching the completion stage and this is an example where we are starting to see results from all that hard work," he said.