BOAZ – Area residents got a glimpse into the future of health care during the grand opening of a $61.3 million Patient Tower that replaces all patient rooms and converts the north end of Marshall Medical South into a spacious, modern new entrance. Marking the occasion with a ribbon-cutting were the Marshall County Health Care Authority, the Marshall Medical Centers Board of Directors, President Chris Rush and Huntsville Hospital Health System CEO Jeff Samz, the Health Care Authority Board of Huntsville and MMC administration and staff members.  
The cornerstone of the 46,000-square-foot expansion is a 64-room, two-floor bed tower of patient suites each supported by its own nursing staff. Technological advances elevate every room to the level of critical care for those with life-threatening injuries and illnesses. Spacious rooms feature a wall of windows overlooking the Marshall South campus. Large, tiled bathrooms are designed to accommodate a wheelchair and have the capability to become a shower room if needed. 
A new 25,000-square-foot concourse, which is flooded with natural light from expansive windows, houses a cafeteria, coffee shop, gift shop and waiting areas. The food service area features state-of-the-art kitchen equipment, a buffet-style serving area and large dining area. 
The space includes a check-in and consult room for outpatient surgery with a waiting area. It also features much-needed meeting facilities. 
Marshall South's ICU was expanded to 18 beds and upgraded to include safety improvements, additional storage space and a double-wall structure that helps with noise control and privacy. Negative pressure rooms were added for patients who require isolation. 
In September 2021, the Alabama Health Planning and Development Agency approved the expansion plan, which represents the largest construction project on Sand Mountain in more than a decade. Exterior renovations of $1.4 million upgraded the emergency entrance and replaced aging windows with energy efficient ones along the front of the 67-year-old facility. An additional 113 parking spaces on the north side of the hospital and a vehicle bridge were added. 
Marshall South opened in 1956 with the name Boaz-Albertville Hospital as a 35-bed facility with 35 employees. Today it has 150 beds with 975 employees. More than 30,000 patients are treated in the Level III Emergency Department each year. Marshall Medical Centers is part of the Huntsville Hospital Health System.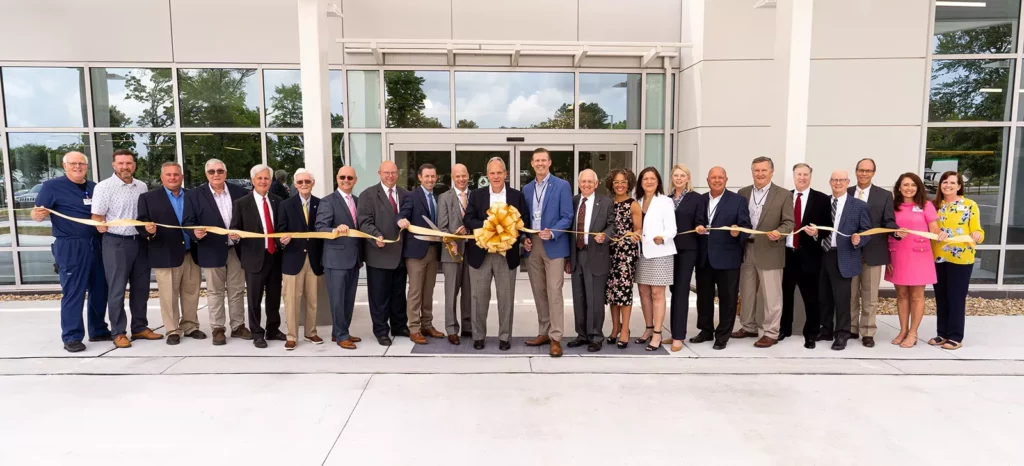 Huntsville Hospital serves as the regional referral center for North Alabama and southern Tennessee. The Huntsville Hospital Health System includes hospitals in Huntsville, Madison, Athens, Decatur, Boaz, Guntersville, Moulton, Red Bay, Sheffield and Scottsboro. The Health System includes more than 2,300 patient beds and 16,000 employees.