HUNTSVILLE – Under clear skies and a soft fall breeze, Bank Independent broke ground Tuesday on its sales office at The Market at Hays Farm in South Huntsville. It is the company's fourth location in Huntsville and sixth location in Madison County.
Tim Singleton, area president for Bank Independent, said the Hays Farm development is the ideal location for the new South Huntsville branch.
"I'm happy to see what all is happening in South Huntsville, with the renovation of Joe Davis Stadium and everything that is getting ready to happen there," he said. "I am happy to see everything Bill Roark has done to stabilize Torch Technologies headquarters and Office Park South, as well as the wonderful renovation of this old shopping center.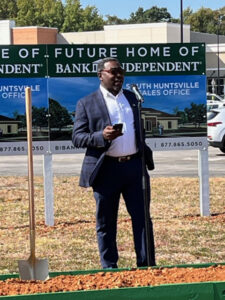 "Right now, there is a lot of uncertainty, but the one thing you can be certain about is that Bank Independent will do our very best to deliver great service to every one of you. So, let's go South Huntsville!"
DeMarco McLain, city president for Bank Independent Huntsville/Madison, said the company is confident its focus on customer needs will be a welcome addition to the highly competitive Huntsville banking market.
"We are a full-service bank offering a complete line of banking and financial services for commercial clients and personal banking needs, and quite honestly, I think we do all of it well," he said. "But our niche is customer service. And if we keep our heads down and focus like we always do on helping our customers reach their goals and vision for the future, I think good competition will prove to make us better."
Headquartered in Sheffield, Bank Independent is one of the fastest growing banks in Alabama with 33 locations under construction.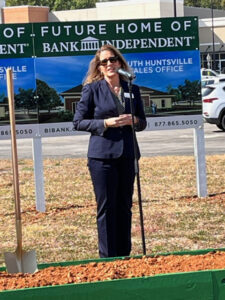 The bank was recently ranked No. 36 on Newsweek's annual Top 100 Most Loved Workplaces list for 2022.
Penny Camp, the bank's executive vice president, chief people officer, said Bank Independent is very much a community-oriented bank and community service will be a large part of building a team for its new locations.
"We love to support and strengthen our local communities," she said. "Community service is so much a part of who we are and what we do every day that as we look to find team members to staff this office, we will look for people who are involved in the community and who live by our values to make a positive difference in people lives.
"Those people will help us to become the bank of choice in this community, and we look forward to finding those team members and continuing to serve this community the way we have served so many in the past."
CEO Rick Wardlaw said Bank Independent is so successful as an employer because it turns things "upside down."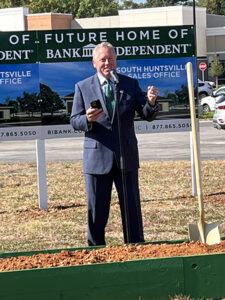 "At Bank Independent, we turn the organizational chart upside down," he said. "The board of directors provide services and support to me; I provide leadership and support to our leadership teams; those leadership teams provide support to their staff, who in turn, provide services to the customers.
"So, if you turn it upside down, that makes the customer the boss, right?"
He said it is that servant leadership that helps the bank achieve that mission of making a positive difference in people's lives.
Macke Mauldin, president of Bank Independent and a member of the ownership team, said that philosophy took root 75 years ago.
"In 1947, my grandfather with some other farmers in Leighton, Alabama, got together to start Bank Independent when the city's only bank packed up and left town overnight, leaving the town with no bank at all," he said.
"The purpose of that bank was to serve the east Colbert County community, and it has continued to do that in every community where we have banks over the past 75 years."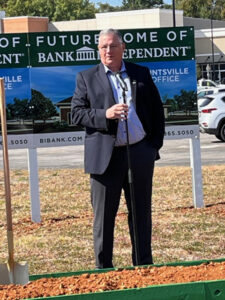 He said in 1947, Bank Independent had $1 million in total assets.
Today, it has $2.3 billion in total assets, and it continues to grow every day.
Stability is another strong suit, Wardlaw said.
"In the last few years, a large Birmingham-based bank sold to a Spanish bank, and the Spanish bank turned around and sold it again," said Wardlaw. "There was a large Alabama-based community bank that sold to another bank, and within six months to a year, that bank was sold.
"Then most recently, a Huntsville-based community bank sold to a large $20-plus billion bank out-of-state.
"As the bank of choice and employer of choice in our communities, Bank Independent builds banks not to sell, but they are built to serve, and we are excited to be able to extend this service to the Huntsville community for the next 75 years and beyond."
Designed by LED Architecture with Robins & Morton the general contractor, the new bank is expected to open in late 2023.
Bank Independent's downtown Huntsville location at 225 Holmes Avenue is scheduled to open in early 2023; and the west Madison location on County Line Road will open next summer.
"Bank Independent continues to show its commitment to a growing city by offering more locations and services," said Huntsville Mayor Tommy Battle. "In addition to constructing a new office building downtown, the financial institution is expanding to provide a South Huntsville branch.
"As mayor, I appreciate seeing quality services offered in every sector of the city."